Summary
Use this service? Not even at gunpoint! The company's prices are low, and so is the quality of their papers. The one I wrote was comprised of moth-eaten clichés and bulky metaphors. To add insult to injury, the writer did not proofread it. Given that they had 24 hours to finish the simple paper, the multiple shortcomings are unacceptable.
Students of yore had much easier time maintaining academic integrity than their modern counterparts. Everything changed when the first college essay writing service appeared on the market. Now, students can make a last minute order and get super fast assistance. How on Earth can one abstain from buying custom essays online if they are so easily available? The undue pressure to succeed almost forces modern college goers to use services like urgent essay uk or urgentessay.net. The ethical implications of essay purchasing aside, it is necessary to consider how safe UrgentEssayWriting is. A quick search shows that the website is not listed in the Better Business Bureau (BBB) directory. So, can it be trusted? To answer this question, I placed an order at urgentessaywriting.com. This review details my user experience and shows whether cheap service can be reliable. In this particular instance, the answer is…on second thought, I don't want to spoil your fun. So, keep reading the article and see for yourself.
UrgentEssayWriting Prices and Discounts
For the sake of fairness, it must be emphasized that UrgentEssayWriting is not a cheap service per se. It is rather cheapish. There are services where one can order a page of academic writing for only $9.97. UrgentEssayWriting.com, on the other hand, sells basic papers for $12.99 a page, which is much more expensive. Maybe, for this reason, they have placed a discount code prominently on their website. And this makes perfect sense: when you buy an urgent essay, you pay extra for, well, urgency. In the cheap pricing, fast delivery, and high-quality equation, students can pick only two options. It seems fair until you realize that UrgentEssayWriting offers none of those options. Why? Because UrgentEssayWriting is neither cheap nor urgent! Its minimum delivery time is whooping 6 hours. And to get an essay written at a master's level in 6 hours, you would have to pay – gasp – $46.99 per page. "How about the choice of high-quality materials?" you ask. Unfortunately, this one is also not available (I write more about it in the next section of the article).
To put the above-mentioned data points in perspective, consider this: there are companies offering help at similar prices but with much faster delivery. Writing from scratch with a 3-hour deadline is an industry standard these days. Thus, if naming an insanely slow service Urgent Essay Writing is not an instance of deceptive marketing, I don't know what is.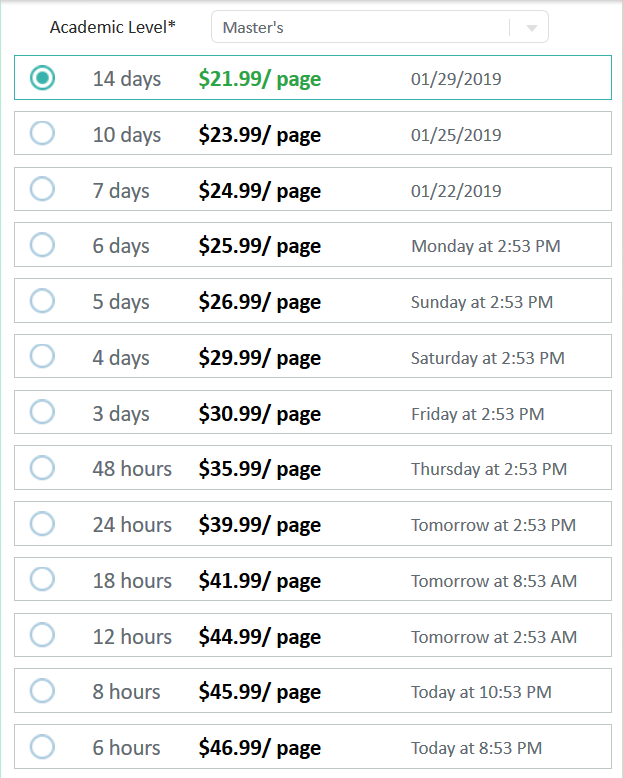 Urgent Essay Writing: Quality and Services
At this point one thing is clear, the more suitable name for the company is Sorta-Kinda Urgent Essay Writing. How about the quality of its editing and writing help? Should it also go with the "Sorta-Kinda" label? I don't want anyone to face unpleasant surprises after submission, which is why ordered a custom essay from the company's writer. I needed a first-hand experience of their work to recommend or dissuade you from using the agency. The instructions I posted via an ordering form called for a four-page essay on the ethics of private profit accumulation. I hit the "Submit" button and started waiting for paper delivery.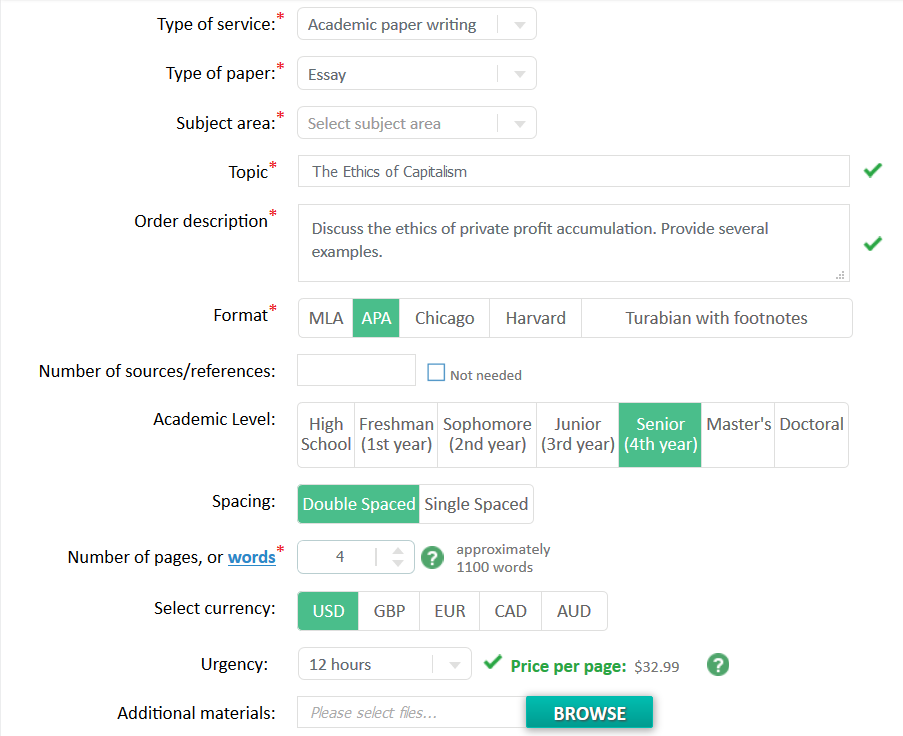 The writer who worked on my essay must be a really focused, involved, and, above all, happy individual. Why? Because they completely lost track of time. The essay was late by two hours! I didn't care because I had all the time in the world. But I'm sure not all customers are so forgiving.
"The writer used two extra hours to write the essay so it must be stunning," I thought as I opened the file. And stunned I was!
Some sentences were overwrought; others were childishly simple. And for good measure, the writer sprinkled the text with moth-eaten clichés. To illustrate what I mean, consider the opening paragraph of the essay:
Nowadays, many people are wary of capitalism. The argument that free markets is good and just is dead as a doornail. On the surface, private ownership of capital seem like a good idea but do not be fooled by its simplicity into accepting the canibalistic ideology of capitalism that is so seductively touted by every crook on Fox News. In other words all that glitters is not gold.
In addition to crafting a vapid and uninspiring essay, the writer was careless enough to send it to me without proofreading it first. The lack of grammatical accuracy, as well as the omission of punctuation marks, could have been overlooked if the essay was written in three hours. Alas, the writer spent the whole day producing this typo-riddled balderdash and still managed to fall behind the schedule.
UrgentEssayWriting Customer Support
Customer support was, perhaps, the only thing I enjoyed about the company. Urgent essay live chat functioned without a snag. A customer rep Dylan diligently answered my question and offered their help with order placement. I also called UrgentEssayWriters and had a similarly pleasant experience.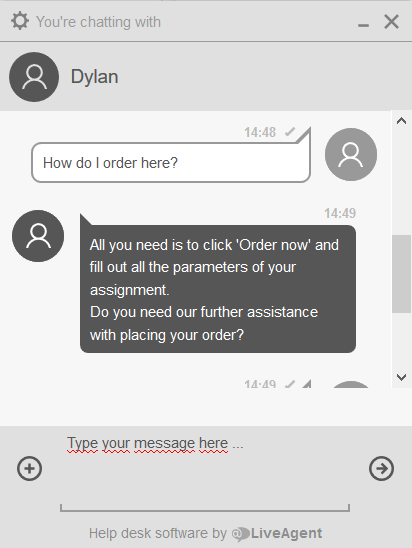 Is UrgentEssayWriting.com Safe? Do They Have Guarantees?
The use of essay writing services falls into murky legal territory. It is illegal to commission the third party to write assignments on a student's behalf. However, the clients of UrgentEssayWriting do not engage in contract cheating (or at least they are expected not to engage in the illegal practice). How so? According to the company's Terms of Use, "all products are provided solely as an example of research, reference or for learning and a sample how to perform an academic writing." Thus, Urgent Essay Writing should be regarded as a legit organization assisting students with their studies.
UrgentEssayWriting.com has three guarantees: plagiarism-free content, 100% satisfaction guarantee, and confidentiality guarantee. I checked the essay for plagiarism and can vouch for the honesty of the company's claim – the text was 100% unique. In this regard, I was completely satisfied. However, the essay was criminally poor-written, which considerably diminished the level of my satisfaction. As for the guarantee of confidentiality, I had no way of checking it.
UrgentEssayWriting.com Rating
Here is a comprehensive list of reasons to use UrgentEssayWriting:
The company has reasonably low prices;

The end.
If you need something more than a compelling price tag, stay away from the company. Painfully dull writing delivered with substantial delay is what makes Urgent Essay Writing probably the worst agency on the market. I can only rate its quality at 3.3 out of 5, and I'm an extremely generous person.
MyAdmissionsEssay Review
Please keep on reading our reviews on all the major essay writing companies. Myadmissionsessay is a great one to continue with, so go ahead!