Summary
I salute PaperHelp.org efforts to help college students. The service they've managed to create is sublimely free of imperfections. The highlights of the service: crystal-clear prose, low prices, and customer support representatives who anticipate questions and provide helpful answers.
Table of contents
Excellent, outstanding, and even eye-poppingly great. Not many writing services garner so much admiration. Are these flattering appraisals of Paper Help scattered all over Facebook really indicative of the superior quality of the agency's papers and the legitimacy of its services?
I decided to find out. The departing point of my inquiry was to check the company's registration location. I was quite surprised to discover that it is Cyprus. Yet, this can be attributed to the fact that the country's favorable tax regime attracts numerous American and international businesses that want to keep the costs of their services down. Maybe that's the primary reason why the company offers competitive prices and affords to give away some valuable items for free (title page, reference page, plag check, etc.). Then, I've scrutinized Paperhelp's registration certificate validity by running its unique entity number (UEN) through the online database of the Department of Registrar of Companies and Official Receiver of the Republic of Cyprus. Turns out, it is a real business that was established 10 years ago and serves customers who need academic papers in English all over the globe. OK, the company is legit; but is it any good? To determine the true quality of the company's services, I unearthed my old college-level finance assignment and asked them "Please, write my paper." The article reports the results of this improvised investigation.
The company's services mainly fall into five categories: writing from scratch, editing/proofreading, multiple choice questions, problem solving, and admission help. Naturally, they are priced differently. Paperhelp.org slots its offerings below the average market price frame in an attempt to attract cost-sensitive customers. Specifically, a basic high-school paper written from scratch with a 20-days deadline will cost you as little $10 per page. The prices of other services for high-schoolers also clustered at the low-end of the price spectrum. However, college, university, and Ph.D. students have to pay $12, $18, and $20 respectively for a page of custom writing. For the sake of fairness, it should be mentioned that the prices are nowhere near as high as those charged by the majority of other companies for their services. If you manage to grab Paper Help coupons or promo codes from social media or email, you can save up to 11% on your order, which is not a shabby deal for a financially struggling student".
Order now and use LESSISMORE coupon code.
Furthermore, if your deadline is not pressing, you can snatch a paper for cheap. The bottom line is the company's prices are quite reasonable.
Also, the service has a loyalty program: with each order, you earn bonuses, which you may use to pay for future papers. Plus, having spent a total of $1500, you automatically become a VIP client. It means that your orders will have a higher priority in customer service's eyes, and you will have a personal VIP manager to discuss any issues with.
Paper Help Writing and Service Quality
There were three options for requesting custom help with my finance homework: desktop order, mobile order, and phone order. Having a negligible history of mobile shopping, I decided not to use the PaperHelp Essay app, and instead opted for the desktop version of the website. The company's digital abode is rather generic: user testimonials, live chat, a bunch of long boastful texts about free revision on paper help, and everything else you might expect from such service.
Boring. When I was ready to sign in, I proceeded to another uninspiring page, which looked like this: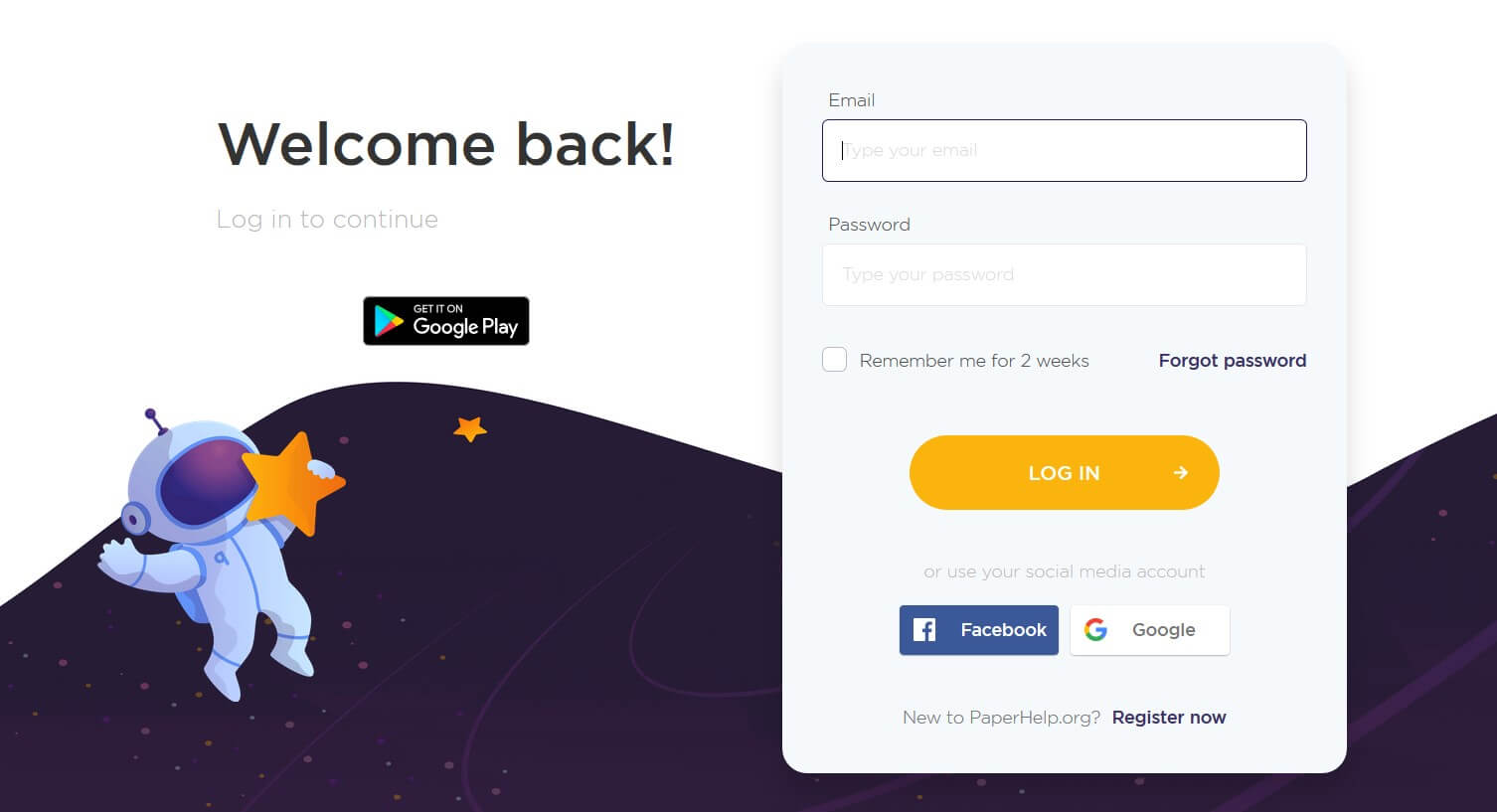 (Screenshot was updated in 2020)
"Would it kill them to splash some colors around?" I thought as I entered my login details. Upon entering my admin panel, I clicked the New Order button and was overwhelmed by a multitude of options: help with English literature, nursing, philosophy, school, thesis, and term papers among others. I chose a research paper in finance, selected college as an academic level, clicked on APA formatting, and requested a regular writer. I also indicated in the online ordering form that the assignment should be delivered in 12 hours.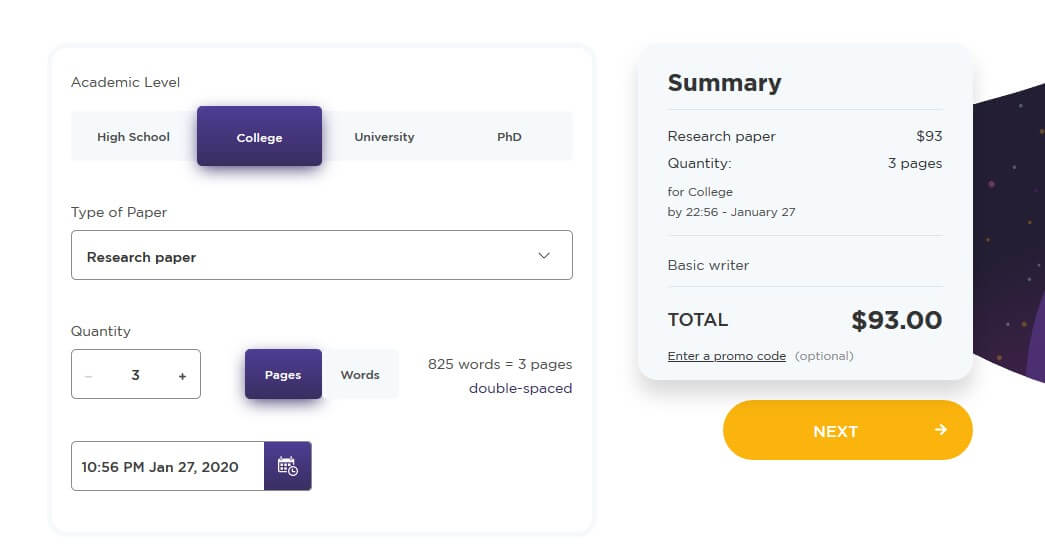 Then, I keyed in the assignment instructions as shown in the screenshot: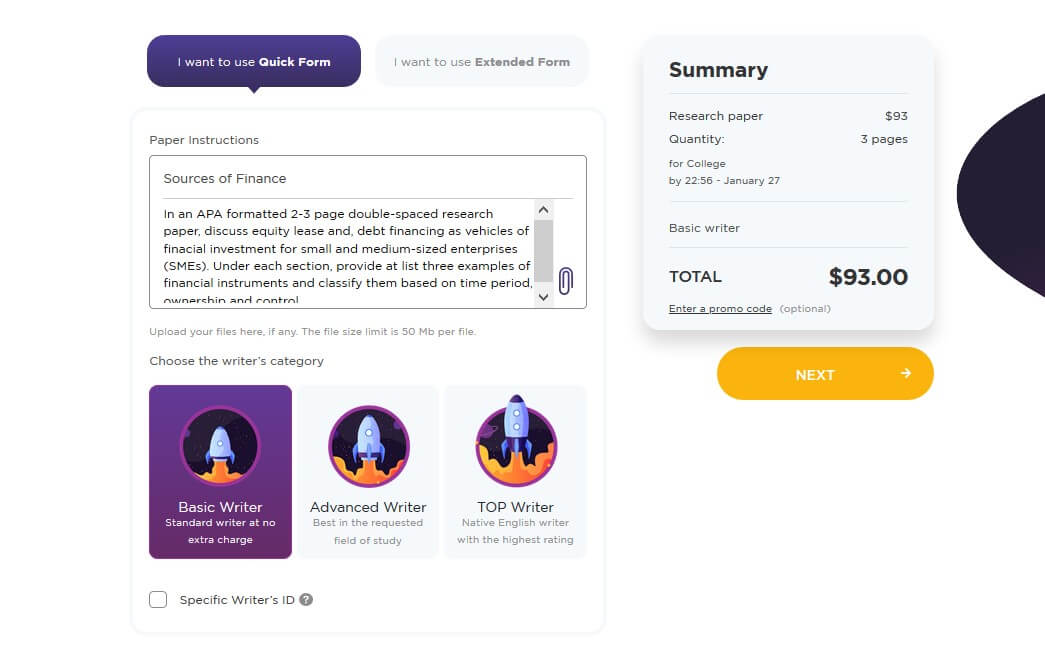 (Screenshots were updated in 2020)
The total sum for the three-page research paper and an official plagiarism report was $93.00. "If they deliver on its promise of high-quality writing within just 12 hours, then it's a real bargain," I said to myself and proceeded to the payment page.
In 10 hours, a surprising message appeared in my email box:
Dear Customer,

The writer has finished working on your order #278089772 on Finance.

 

To check the preview version of your order, please click here.

 

Keep in mind that you can save on your next order with our Referral Program. Give your friend a 10% discount and get 10% back from all of his orders!

 

If you have any questions or concerns, please feel free to contact me, and I'll be more than glad to help you.

 

I hope you enjoyed using our services.

 

All the best,

Client manager

PaperHelp.org
Paperhelp.org Order Placing and Delivery
PaperHelp order was fulfilled two hours before the requested deadline, which is pretty commendable considering regular delays I experienced when dealing with other services. As for the quality of the paper itself, it was beyond reproach. Introduction adequately conveyed the topic and even delineated subtopics: equity financing, debt financing, and lease. Strong organization of the material and exhaustive discussion of each source of capital indicated that the paper was crafted by a professional rather than an amateur. The writer even went so far as to create a chart classifying sources of SME financing by time period, ownership, and control. Clearly, all instructions were followed. I thoroughly scanned the paper in an attempt to find grammar or syntax errors. There were none.
Yet, being unwilling to turn off my fault-finding radar, I decided to check references and citations. Gotcha! I found two minor errors. One was the missing comma between an author's last name and a year of publication in an in-text citation. Another was the italicized year of publication in a reference entry.
All in all, the paper was great, but not "eye-poppingly great." I'm ready to admit though that if I'd chosen TOP writer to accomplish my order, the result would've been pretty damn close to those glittering terms some PaperHelp users write in their testimonials on TrustPilot and SiteJabber. Also, you can find some Paperhelp reviews on Reddit if you want to get a real feedback about the service.
Paper Help Customer Service
When it comes to PaperHelp support, there's not much to comment on. I used the phone number indicated at the top of their main page to make sure someone was working on my research paper. A cheerful female voice reassured me that the order was in progress. The Customer Support representative also informed me that I could contact them 24h, 7 days a week and thanked me for calling. That's it. The entire conversation took less than two minutes. During the brief interaction, I haven't noticed any shortcomings in their service or grounds for paperhelp.org complaints.
PaperHelp.org has a regularly updated Facebook page – if you're into college-themed memes, you'll definitely like it. Yet, it's not just for memes: I wrote them a message there with a question about the payment procedure and got an extensive answer in under 4 minutes. In turn, the PaperHelp LinkedIn page doesn't seem to be so much "alive." I am inclined to think that this page is meant for those writers who want to become a paperhelp.org expert and not for customers who wish to place an order.
Is Paperhelp.org Legit? Does it Offer Guarantees?
Having used the company's services, it can be unequivocally concluded that it is not a scam. Overall, I'd go so far as to affirm that Paper Help is a legal and fairly successful writing agency that sells good papers at affordable prices. It has To enhance customer loyalty, the company offers several guarantees:
Money back guarantee;

Paper quality guarantee;

Confidentiality guarantee;

Three free revisions guarantee;

Zero-plagiarism guarantee.
Paperhelp.org Plagiarism Guarantee

Paperhelp.org plagiarism warrants a brief discussion. Upon inspecting the ordered paperhelp.org plagiarism report, I attempted to conduct an independent verification of the paper's uniqueness. To this end, I used a commercial plagiarism checker – Copyscape. I had run the paper through the utility and discovered that no similar text appeared elsewhere on the Internet. My finance assignment was indeed 100% unique.
Is PaperHelp Reliable and Trustworthy Company?
PaperHelp is a legit company everyone should be using. But I went to PaperHelp not only due to security, but also because the quality of its services is sublime. Frankly, I couldn't have bought a better and cheaper paper anywhere else. I checked it for plagiarism and didn't find any. Also, get this: the paper was delivered two hours before the deadline!
PaperHelp Rating: The Verdict
I spent some time thinking how to rate the company's overall performance. On the one hand, the paper's quality was almost immaculate. Short delivery times (starting from 3 hours for first-time buyers and a mind-boggling 1,5 hours for customers who have at least one approved order) was also something worth noting. On the other hand, the company's website was pretty dull.
Moreover, an annoying pop-up soured my user experience. Who uses them anymore?! It's as if they lack the motivation to bridge the gap between great and perfect. Had the company invested in fresher website design and removed the pesky pop-up, it would have a 5-star rating. As for now, Paperhelp.org gets 4.9. Not bad for a company with an affordable pricing model.
UPDATE:

In the end of October 2018, I received a notification from PaperHelp.org to the email that I've used to register with their service. And guess what? It informed about the new design of the company's website! Far be it from me to think that it was my review that made PaperHelp revise their looks and actually splash some color around. That said, the order form and the admin panel weren't changed even for a pixel. Well, probably, they decided that the pages where you deal with money and personal data have to stay simple and straightforward.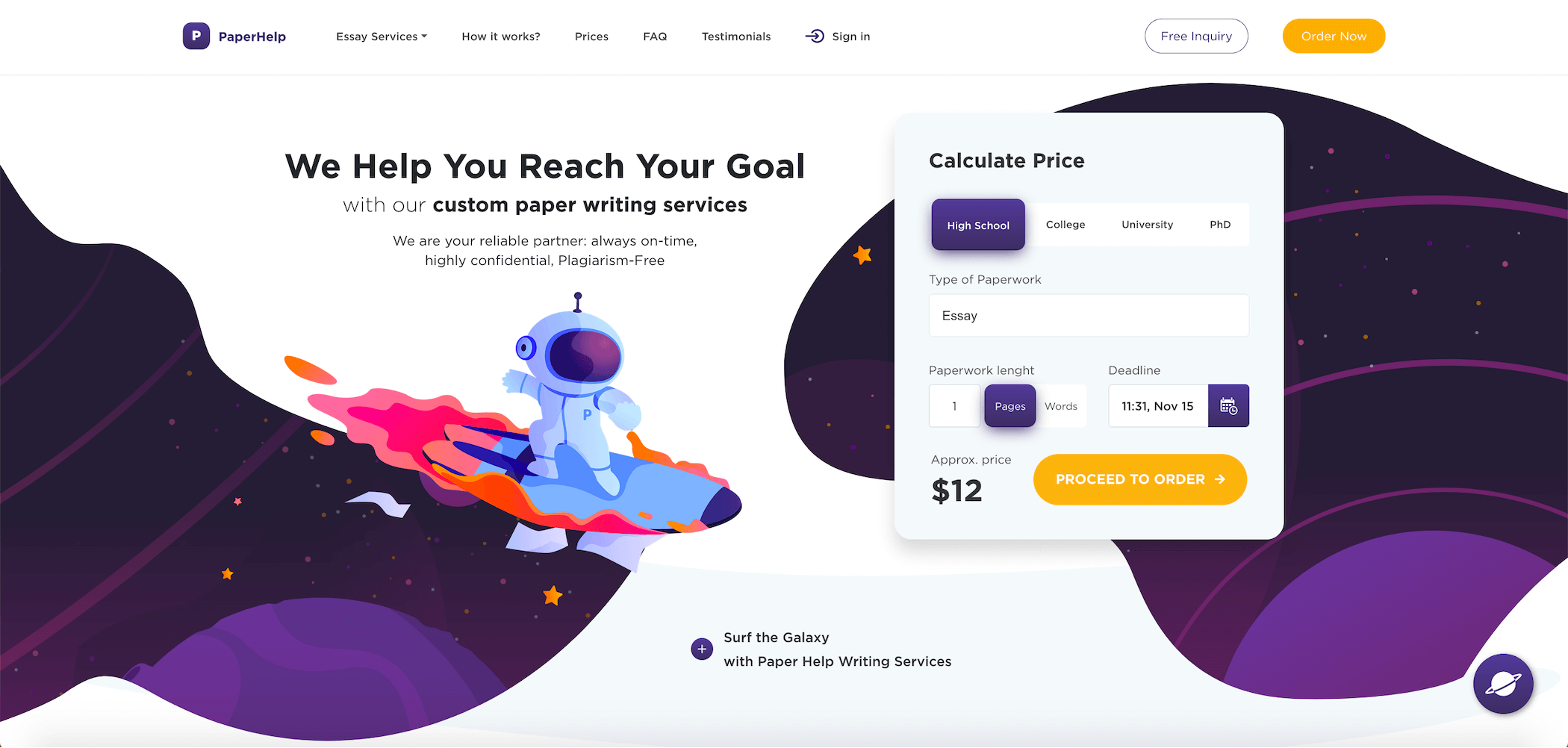 It's apparent on the first gaze that the change had been thoroughly thought out and most likely took quite long in the making. In general, I've spent about an hour surfing PaperHelp.org and exploring its new space-themed main and inner pages where an animated astronaut makes his way through the universe (college?) on a fiery surfboard (PaperHelp writing service?). Eventually, I can affirm that the new website's façade definitely improves the overall user experience thanks to introducing not just some minor face-lifting procedures, but a radical redesign to be in line with the latest UI/UX trends.