Summary
WowEssays Premium is one of the latest arrivals to a scarce batch of paid sample database websites claiming to become the largest of them with over 1 million entries. While it can hardly replace a full-fledged custom writing service, WowEssays Premium might serve the good turn for students seeking inspiration and top-level academic paper examples to use as a model to follow.
In this review, we examine a rare phenomenon in the academic assistance market – a paid premium essay database with arguably the largest catalog of academic paper samples on the Web. Launched and supported by the WowEssays.com writing service, this directory purportedly includes over 1 million (!) entries. Its creators insist that the WowEssays Premium database is a viable option for students seeking writing help yet willing to avoid the slippery path of buying papers online. Let's find out whether the access to a virtually infinite selection of model papers is worth paying for and what are WowEssays Premium's advantages over free sample databases.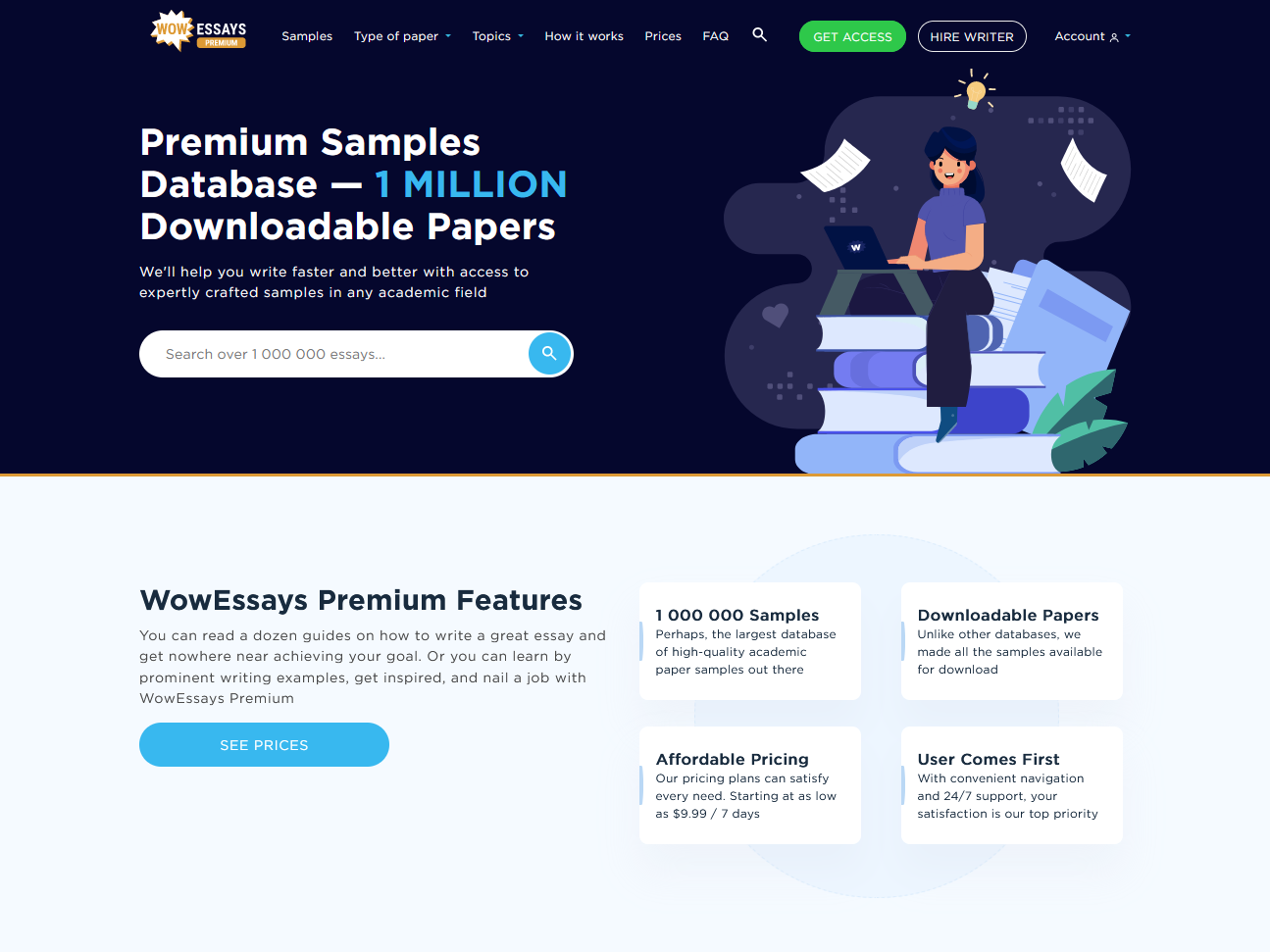 WowEssays Premium website's home page
Pre-Written Essays
Database Subscription Prices
WowEssays Premium is a subscription-based service. This means you don't buy pre-written essays apiece but pay for access to the entire database during the set period. That said, WowEssays Premium has 4 subscription plans – 7 days ($9.99), a month ($36.99), 3 months ($59.99), and 6 months ($89.99). Apparently, a weekly subscription is intended to serve as a kind of a trial period as it comes without auto-renewal while the other three plans recur automatically.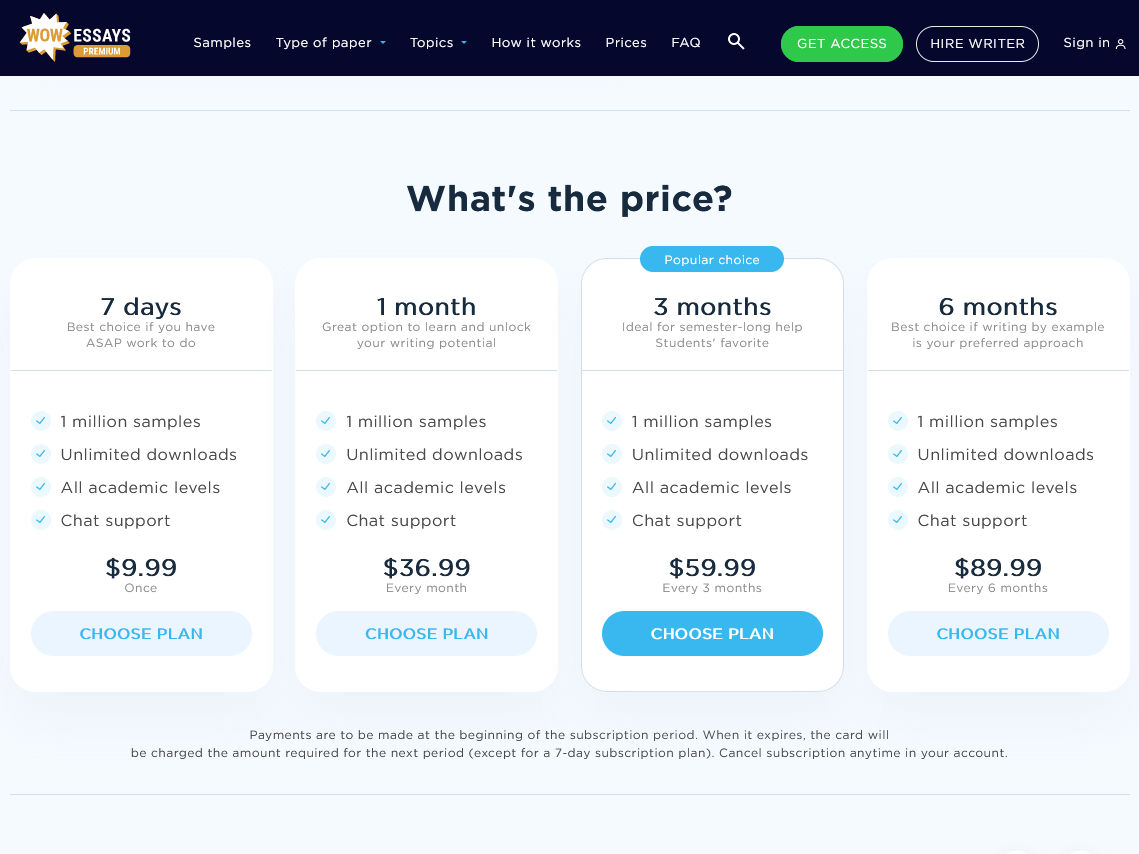 WowEssays Premium subscription plan options
As you can see from the screenshot above, duration is the only difference between subscription plans. In all other aspects, you get the same set of features: instant access to over 1 million samples, unlimited downloads, and chat support. That's basically all there is about WowEssays Premium pricing policy as no information about special offers can be seen on the Prices page.
WowEssays Premium Reviews
of Usability and Samples Quality
To check out the quality of samples in the WowEssays Premium database, we've purchased a weekly subscription. The process was as straightforward as it only gets: you enter the login (email address), password, select a subscription plan, and process the payment (available payment options include Visa, MasterCard, Discover, and AmEx). Once you receive the confirmation email, you can start using the database.
There are several convenient ways you can look for samples:
by subject;

by topic;

by type of paper;

via on-site search;

by combining two or more approaches thanks to additional filters on the side panel.
Fed up with the COVID pandemic news from all over the world, we've searched for another topical issue – police violence in the US. The search returned over 10K hits, which is quite remarkable. The only thing that left a sour aftertaste was the search duration – it felt like it took 9-11 seconds to display the results. However, if you consider that there are a million pieces to scan, the outcome might not be that bad.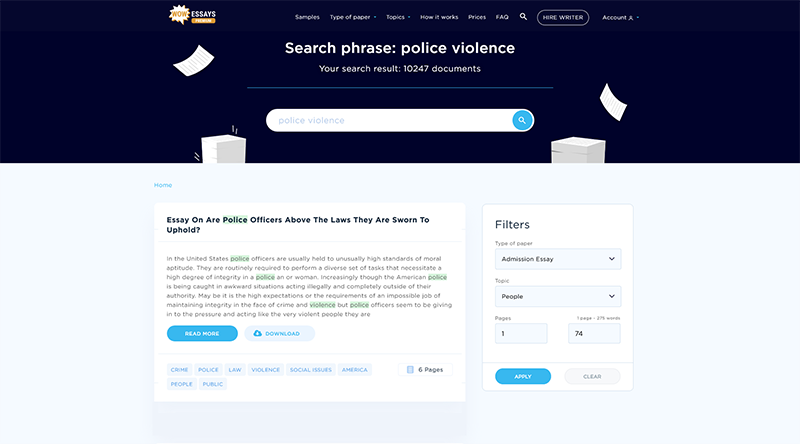 Sample search results page
Having checked couple dozen samples of various types, we can conclude that the quality of the presented works is really good and, most importantly, consistent. From experience, we can say that on this parameter, papers on WowEssays Premium best academic essays examples presented on all free databases we've browsed previously. This is most likely achieved due to the fact that the lion's share of papers was crafted by staff experts working at WowEssay.com writing service (WowEssays' Premium parent company) – at least, it's what the customer support agent told us. If this is really so, that's a huge plus to the service's overall image and rating.
Downloading samples went smoothly; we've come across files in .doc and .docx formats, while the website claims there are also files in .pdf and .ppt(x) formats available for download.
Premium Essay Database
Customer Support
Interaction with the WowEssay Premium support made a good impression. Though there is only one contact option available – via an on-site chat – the quickness and fullness of the agent's answers didn't leave space for complaints. He explained that the vast majority of samples were composed by the service's staff writers. In response to our question, he also pointed out that due to the peculiarities of essays database access, refunds are not provided. Finally, we've also wondered why there's no Facebook / Google authentication on the login – the reply was they've seen customer reviews on this matter and are working to implement these options.
Wow
Essays Premium Guarantees: Find Essays and Download Without Restrictions
Usually, when we review writing services, in this section we tell about which guarantees they provide, for example, confidentiality, timely delivery, originality, money-back, etc. However, in the case with the WowEssays Premium sample essay finder, that's beside the point. You have a million downloadable samples meant to help you produce a piece of wow writing on virtually any topic. What else is there to ask for from a sample directory?
Other WowEssays Premium Essay Services & Features
Wow Essays Premium itself doesn't provide any additional services apart from the legit and safe database of already written essays and other paper samples. However, thanks to its affiliation with the WowEssays writing company, in a couple of clicks, you can access an informative blog or a collection of helpful – and absolutely free – educational and writing assistance tools (for instance, topic or citation generators, readability or grammar checkers, various converters and counters). Moreover, in case you seek more "practical" help, WowEssays offers a broad range of custom writing services at affordable prices.

Writing assistance tools by WowEssays.com
WowEssays.com
Premium Verdict: The Best Essays Online Database?
Summing it up, we can say that WowEssays Premium cannot be viewed as a full-fledged alternative to 'traditional' writing services. Rather, it was designed to supplements the services provided by WowEssays.com and is intended to compete with free yet smaller sample databases thanks to the unprecedented number of downloadable premium quality essays on virtually any topic. Hence, it can satisfy the needs of students who don't want to pay someone for writing papers instead of them but still need some kind of creative push or a bright example to follow in order to develop their own college essays that wow.