Summary
The first thing you notice at Studybay.com is their ridiculously low pricing starting at $6 per page or even less. However, don't let this dazzle you. With this service, you have no guarantee of delivery, originality, and quality of your paper, as it all depends only on the writer you choose. So, if you need an A-level essay, coursework or any other task, be ready to spend much time in search of an expert. Or try your luck with some other academic writing service.
Study Bay is a sort of a marketplace where writers bid on orders; the platform serves as a bridge between struggling or lazy students and freelance writers willing to fulfill an academic work for a coin. At first glance, the platform made a good impression due to an interesting website design, showcasing dozens of positive Studybay reviews. This suggested that one would get a decent paper here. Is it really so and is Studybay real deal? Keep reading to get an answer.

Prices, Discounts, and Nonexistent Studybay Promo Code
Sure thing, there is no fixed pricing list at Studybay. It has a bidding system, so once you place an order, you need to wait for the bids from writers and then try to negotiate the price in a chat that usually turns out to be a quite time-consuming process. And, of course, there are no promo codes or coupons for new customers. Moreover, the average price offered by experts seems to be even higher than the market's average. Add an extra processing fee at checkout – and you'll see why real customers name so few service advantages to justify such rates.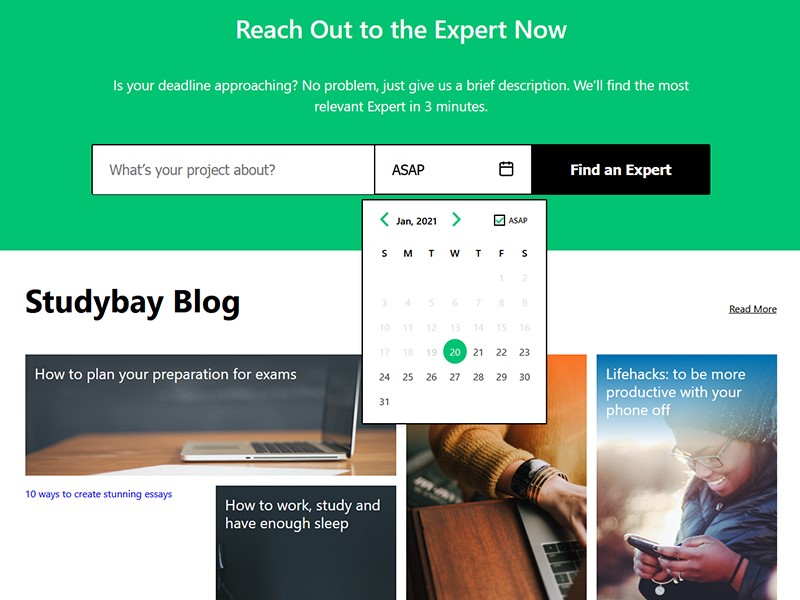 Writing Quality and Services: What is behind Studybay login?
The list of services Studybay experts offer is really impressive. It seems they can fulfill any task a college or university might throw at you, from an argumentative essay to a PhD thesis.
Nonetheless, the ordering process isn't that smooth. I personally started hating the website from the very first moment I tried to place an order. They don't let you access the order form, check pricing, search for some more suitable option or do anything purposeful until you share your email with them.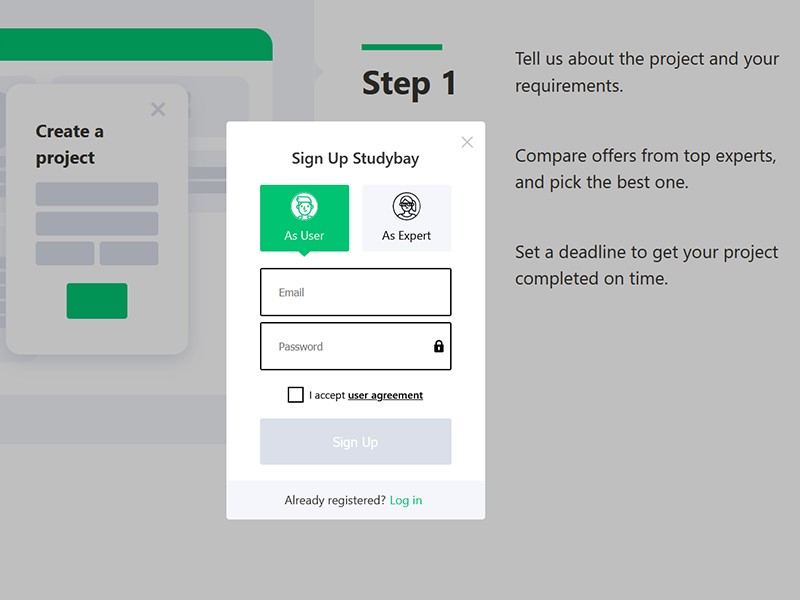 After you register and get your account login, you are forwarded to a simple form to place an order. In the long run, I ordered a 5-page essay, chose one of the lowest bids of $45 (spoiler: my mistake), paid it, and kicked back waiting for results.
The quality of the paper I got was questionable, to say the least. It had several significant grammar and punctuation mistakes, while some sentences didn't make any sense. Obviously, I requested a revision, but it didn't help much. Well, it wasn't the worst paper I've seen, but I've also seen much, much better ones.
Studybay.com Customer Care
There are several issues here. Most of your communication happens with writers directly. However, should you need to talk to Studybay support, their agents are generally very busy or not available. Nonetheless, when you still manage to reach out to them, agents will most likely be slow with answers, ignore your questions, or won't be helpful at all as the service appears to have little to no control over freelancers' actions. Consequently, you can hardly expect their effective help if some dishonest writer would scam you.
 Is Studybay Legit? What Are Its Policies and Guarantees?
At this point, you might have a single question: is Studybay legit? The short answer is 'Yes.' This is a real 'mediator' business providing actual services within existing legal regulations.
One can be surprised to find many negative Reddit or Trustpilot reviews about the service, but don't fret. Most of them are apparently made by haters and competitors who claim Studybay cheating jeopardizes academic integrity. That's funny, as Studybay only offers a platform, and that's students who use it to cheat. Yet, to tell the truth, there are a few plausible stories about poor quality papers submitted by the cheapest writers.
So, is Studybay scam? No, it's not. Although there is no clear revision and refund policy on the website, they do offer a 20-day warranty period when you can request revision, partial or full refund. However, will you be satisfied with getting a poorly written paper and doing numerous reviews, even for free? That is another question.
Other Features
Unlike other similar services, Studybay doesn't offer many extra features. I spotted only a free plagiarism checker, experts' ratings, and a $5 Premium Assignment Option to pin your order at the top of the auction, so it's displayed above other assignments.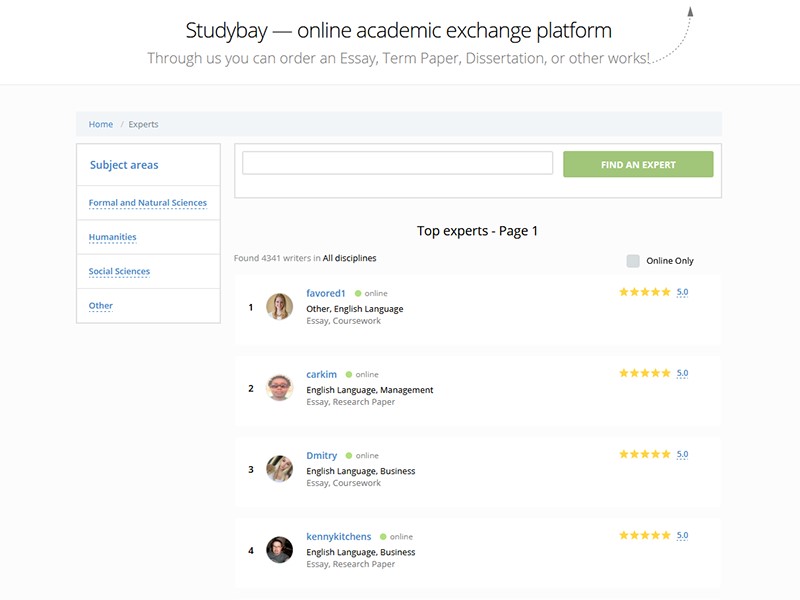 Studybay Essay Service: Final Verdict
Apart from a good-looking website and declared low prices, quality is a top factor that students are seeking from an essay service. And when it comes to Studybay, the fact is that you are not guaranteed to get a top-notch piece from an experienced writer for a reasonable price. On the other hand, this service can be straightforwardly recommended if you are ready to pay the highest or at least higher-than-average bids to get a real expert to fulfill your order.