Summary
If you get stuck on your essay and want to look for an effective example to get inspired, the StudentShare.org paper database can be quite helpful. This paid sample database is far from perfect, yet there are a lot of even worse alternatives.
As you get used to working with online writing platforms, you may find that StudentShare.org is very different from most academic service websites. StudentShare offers you a legal sample database with academic papers uploaded to the site by other users – in other words, study materials for inspiration.
One may find a lot of Student Share website reviews online, but are there any pitfalls? This review is going to answer all your Student Share questions.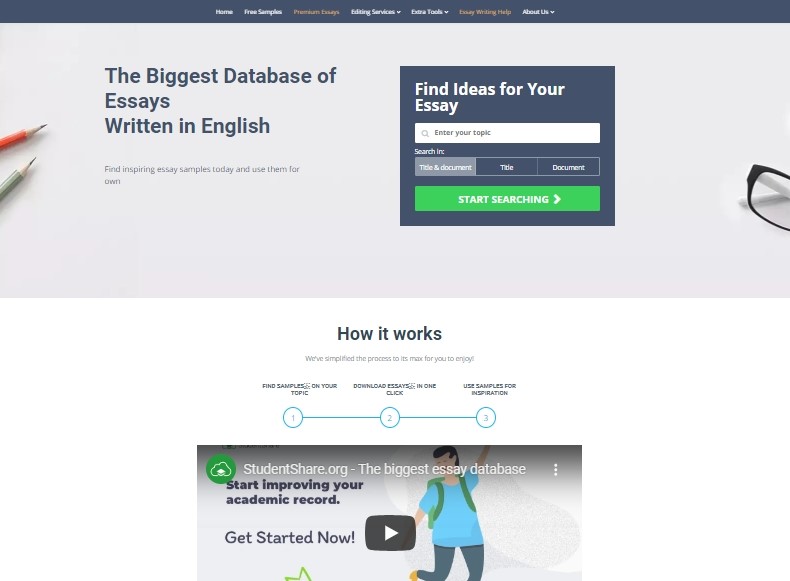 StudentShare Promo Code, Prices, and Discounts
The StudentShare website operates on a subscription basis. Thus, you need to subscribe to the service for a specific period to get full access to a database instead of buying a separate essay.
The monthly plan costs $19.95. Alternatively, you can choose a 2-month or 3-month plan that go a little cheaper – $37,95 and $49,95 respectively. Information about the subscription and other services costs becomes visible only after you register on the site, which is not very convenient.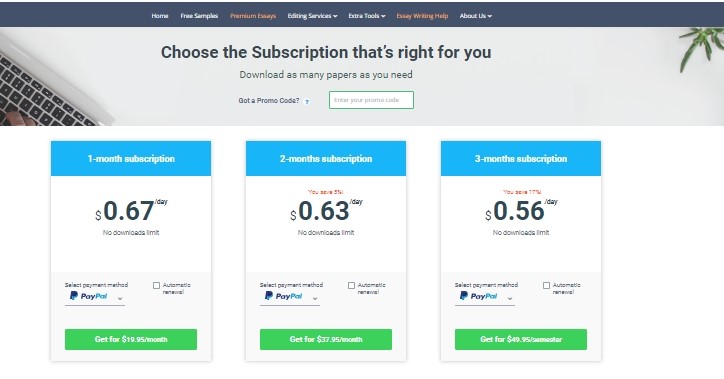 When subscribing to a longer service plan, you pay less per month. One can also find a Student Share promo code for a 20% discount right on the website's homepage. Also, they promise to send special offers by email, so subscribing to their email list might pay off later.
Quality of Samples
The website provides a huge database stored to help students with their studies. The StudentShare library includes a wide range of academic papers: school essays of various types, research papers, test answer papers, reports, etc. The good news is that the service DOES provide free samples for its customers, but their number is limited. If you pay for a subscription, you get unlimited access to all materials.
Finding a suitable sample is easy thanks to a convenient search system. There are useful filters to search by paper type, size, subject, difficulty level, and upload date.
Still, there is a fly in the ointment. The quality of free papers is extremely poor, and they often contain many primitive mistakes. The quality of premium examples is slightly better but still far from flawless. Any user can upload samples, and the company is not responsible for their quality.
A question that worries many students – is using Student Share plagiarism? Whenever you download an essay that has already been written by someone, the only thing you have is access to it. Only its author has all the property rights. If you download the paper and submit it as your own, you'll be accused of plagiarism. So you can only use the resource as a source of inspiration and exploit Student Share ideas for developing your own topic or a paper outline.
For students who want to use the sample essay and minimize the chance of plagiarism detection, there is a function "polish the paper" – in fact, this is a paid rewriting service. The company also offers a paid service to hide the selected sample from other users – that is, you will be the only user with access to the paper for a couple of months.
Customer Support
The quality of customer service on StudentShare is not that good. We wanted to clarify the information regarding subscription renewal and canceling, but the auto-reply email did not answer any questions and did not make the situation clear. The support phone number didn't help either – it's not a direct dial number but an IVR (automated phone response system) with a labyrinth of complicated menus and plenty of choices. Time-consuming and not helpful, that's the verdict regarding the support on Student Share.
Guarantees: Is StudentShare.org Legit?
StudentShare.org is a legal service, reliable in terms of access to what you pay for. It provides several guarantees to its customers, including secure online payment, protection of personal data, and no automatic charges. However, no refunds are allowed.
Other Features
College Student Share help comes in several other ways. The website offers many helpful tools and features to help you overcome your writing difficulties, such as:
Questions and answers section;
GPA calculator;
thesis generator;
essay topic generator.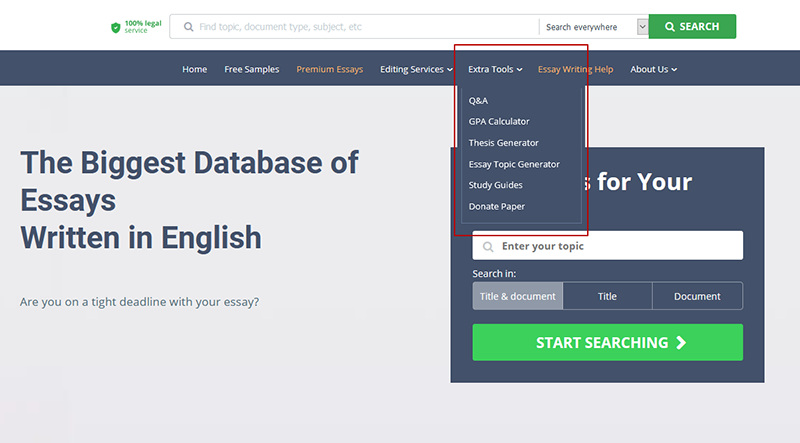 Here you can also find useful study guides on how to write a specific type of academic paper to help structure and organize your content. What's more, you can get essay writing help from experts.
Verdict: Is StudentShare Reliable?
The poor quality of many samples, high prices (minimum $19.95 per month), and the active imposition of paid services force many users to look for other sites with essay databases. StudentShare's samples can be used as a source of inspiration and guidance, but the mentioned drawbacks don't let us call it the best solution to widespread writing problems.