You know, I get bored. I am through with tons of annoying, undescriptive, and long reviews. The moment I read such an opus, I am starting to lose interest in life. Some time ago my attention was drawn to www.masterpapers.com (it is sometimes referred to as MasterPapers UK as the company claims to be British). One of my friends needed to dig a game-changing solution for the problem regarding his term paper on the border rights of refugees. It should be mentioned that the work was almost completed – it just called for the concluding chapter. So I decided to get wants and needs meet and order the conclusion part from Master Papers writers. Read on to find out what has become out of it.
The core features of the Master Paper platform include 24/7 customer support, fast ordering process, free plagiarism check, etc. You have a chance to increase the priority of your order or add a variety of paid extra services (top writer, plagiarism report, text message updates, etc.).
Prices and Master Papers Discount Code
At a glance, the MasterPapers website appeared to be user-friendly and highly descriptive. Along with the brand name, the way the company's page is organized is obviously meant to point out the fact that they specialize in delivering a high-quality product primarily for senior students and those who attend Master's programs. Of course, they can cope with providing all types of academic writing for high school and college as well. Also, a greeting promo banner clearly informs that you can get a 10% discount for just leaving them your email. If that's not enough for you, try googling MasterPapers coupon – from time to time they distribute good deals over designated savings Internet platforms.
The default pricing policy is based on several industry-standard factors: the urgency, type of work, level of writing, and the number of pages. The cost of a high school-level essay starts at $11.87 per page. The service offers the easy-to-use calculating form that enables you to figure out the total price of the order taking into account all the specifications and details.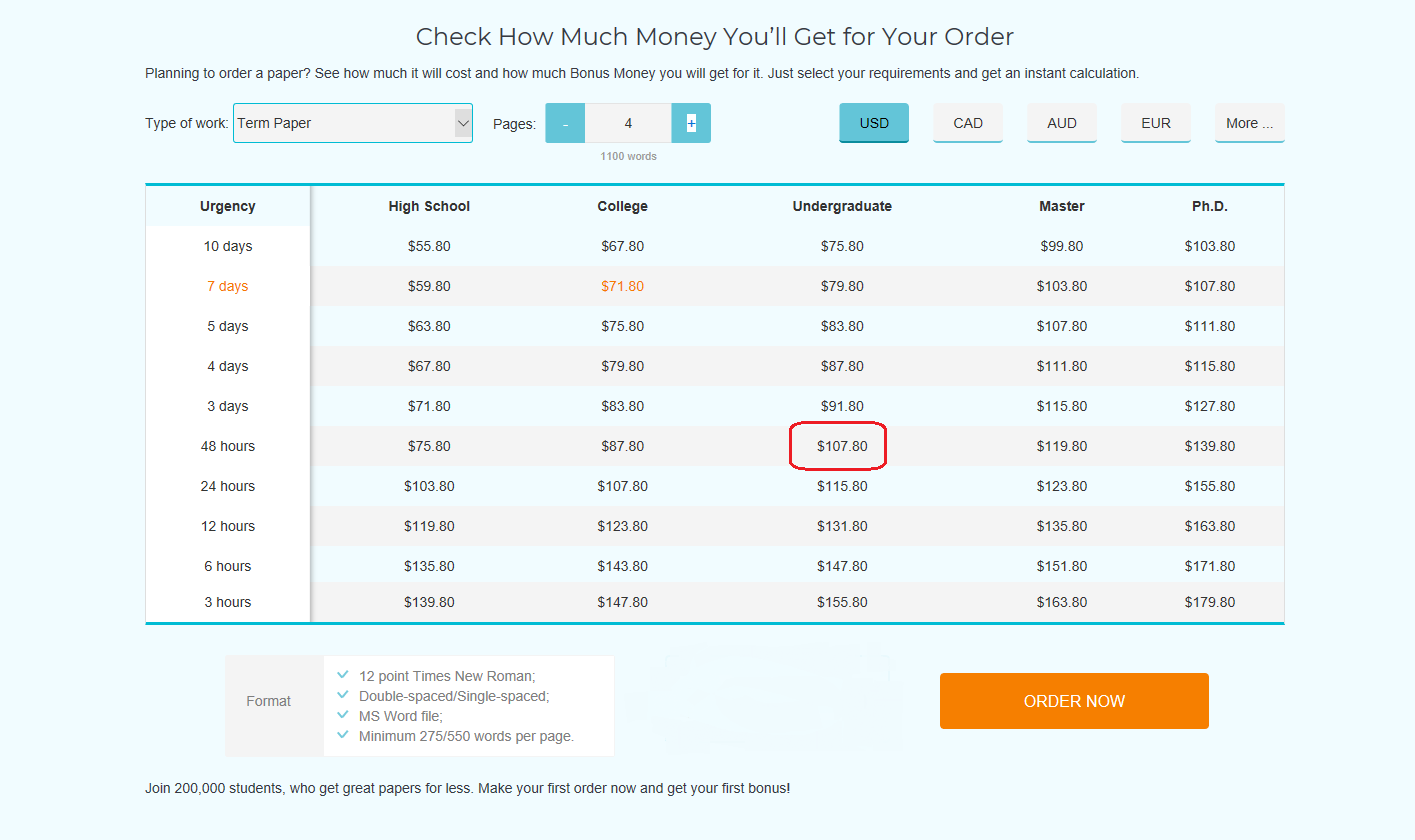 As it was mentioned before, I needed a conclusion chapter for the dissertation (4 pages) written maximum in 48 hours. Having made my specifications, I got the following table: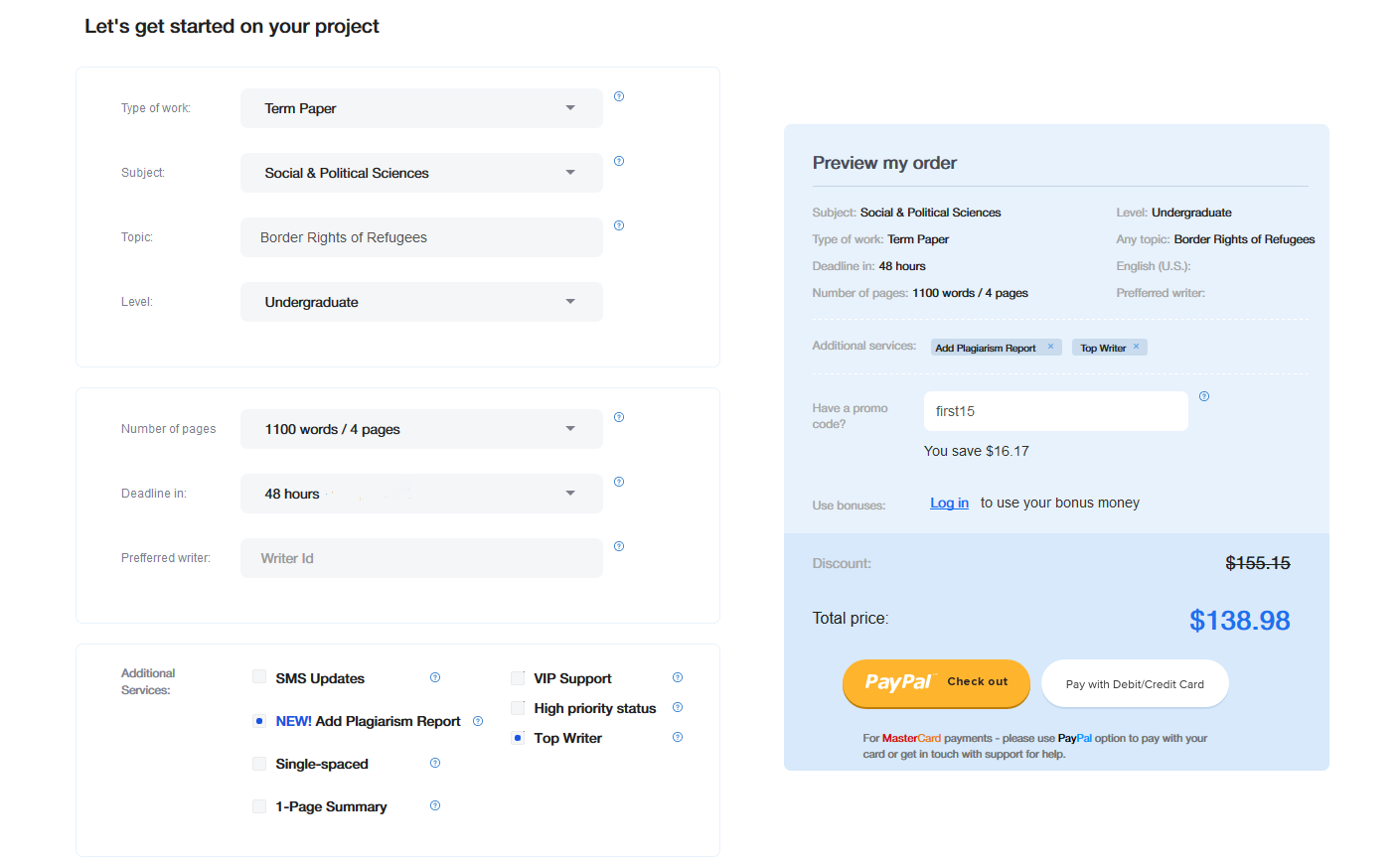 Note that this price does include the first order coupon discount (15%). Then, I was taken to a more detailed ordering form where you can add some extra services or change basic requirements. As my order was urgent, I decided to add the following extra-cost features: top writer (+30%), plagiarism report (+$15), and additional quality check. As you can see, I was inclined to get the best conclusion chapter one can receive for money from an online writing service. However, the total price for that hit a whopping $214 (with a 15% discount).
Overall, if you exclude extra services, MasterPapers' prices are inside the industry's average range; the same could be said about the discount for the first order. The calculation and ordering process is as straightforward as it only gets, so no complaints on that particular subject. If not for the expensive extras, the rating for pricing could have been higher, but for the time being it's 4,2.
Writing Quality of MasterPapers Writers
To have access to the personal area on masrterpapers.com, you can sign up using your email as a login or with the help of your Facebook account. Personally, I utilized the first option to get into Masterpaper customer area, which looked quite attractive in its simplicity. There I could check the order history, communicate with support assistance around-the-clock, upgrade my order, and keep track of the entire progress.
It is difficult not to agree that the most confusing and essential thing about ordering an academic writing paper from the third parties is quality. Yet, based on the user reviews along with the 4-star ratings on TrustPilot and SiteJabber, I was pretty much sure about the professionalism and the level of expertise provided by the company.
Long story short, in terms of delivery and adhering to the schedule, Master Papers get an A+. In 40 hours, I received my precious 4 pages, read them, and passed them along to a friend of mine. Rest assured, he is an even more of a comma-counter than me. Later, we hooked up to compare our assessments of the piece. Despite several minor flaws with the citations in an APA style and one typo, the quality question was not up in the air. The material presentation was well-structured and logically justified. The main conclusions of the paper were spelled out clearly and reasonably. An area for future research was mapped out. In a nutshell, the paper was worth every penny. My friend claimed that he would do a bit of rasp-file-work with style – and use it in his assignment. That said, for the writing quality, MasterPapers get 4,8.
Master Papers Online Customer Support
You can get in touch with a manager by means of Masterpapers contact form on the site, live chat, email, or just call them. Also, it is easy to find the platform on social media sites. If you are addicted to Facebook, feel free to drop them a line on the Master Papers official account.
As for me, I've contacted support via their built-in messenger on one occasion, namely to figure out how I could pass the assigned author a part of the term paper that had already been written so he could write his part in a more relevant style. The reply appeared to be very fast, split-second; plus, my question was answered in a matter of minutes. These facts should be highly appealing and attractive to every customer. All things considered, I must agree with the positive feedbacks on TrustPilot regarding MasterPapers' professional and friendly managers.
The only thing that bothered me later on was the annoying email messages and notifications from MasterPapers trying to lure me into buying more papers from them.
Is Master Papers Legit? What Are Their Guarantees?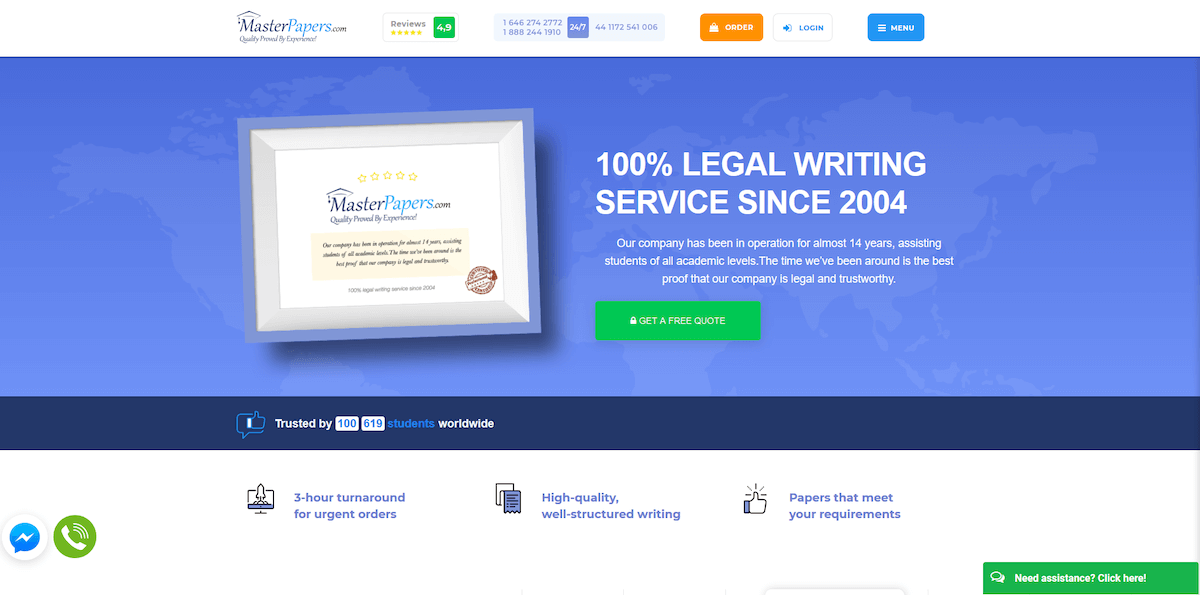 As satisfying MasterPapers are in terms of their writing quality, so hackle-raising is the story of the place of company's residence. Originally, you're given an idea that MasterPapers is from the UK. Yet, the following Internet research showed that there is a Master Papers (Pvt) Ltd company in Pakistan. Well, ok, that might be just a coincidence. But then I've discovered that MasterPapers.com is run by a WritePerfect Ltd. from Ukraine! Considering that WP also runs several other essay mills, it can be affirmed that this is the true origin of the reviewed company. And this is somewhat disturbing. On the other hand, the organization has a proven record of completed orders, great reviews on trusted websites, and no MasterPapers complaints regarding their legitimacy were found on the Net. I dare to say that the company is totally legit; it's just simply not American or British as it wants customers to think of it.
MasterPapers Final Verdict
As you can understand, I feel contented to recommend the MasterPapers services to everyone. The customer support impressed me with their professional and fast consultations. The TOP writer cranked out a great piece of writing. The minimum price of less than $12 makes the service affordable for students of almost any social and economic background. Minor drawbacks or country of registration issues cannot spoil the overall good impression MasterPapers had on me.