Summary
MagicLearning is a vast online library of academic papers for students. It makes an excellent alternative for students who need more help than their writing center can spare them but whose scruples prevent them from using custom-writing services. Good quality of samples, genre variety, and unlimited access make MagicLearning an experience worthy of its name.
MagicLearning is the newest addition to a small but growing family of white-hat academic help services. This trend probably heralds a welcome change, so we were more than happy to prepare this review. As usual, we are going to look into the services, prices, support, usability, design, etc. Excluding, perhaps, the MagicLearning order process, for a simple reason that there is none – but more on that later in our review.
MagicLearning Company
and Its Disruptive Product
MagicLearning is a library of college papers. Or should we say the library? If the number of documents they claim to offer is proper (and it's a million, no less!), it seems like they have gathered every essay ever written in one place. Okay, maybe we are getting a bit melodramatic here, but it must be enormous. The quantity of results a keyword search returns is staggering. For example, from the top of the head, the search for "recession" shows nearly 20,000 results.
Accessing such a treasury of student papers is definitely worth paying for. The prices are pretty moderate and become progressively lucrative with the extension of your subscription period: from $36.99 for a month to $89.99 for six months.  If you aren't ready to shell out on a full plan in advance, you can dip your toes in with a 7-day trial that will only cost ten bucks.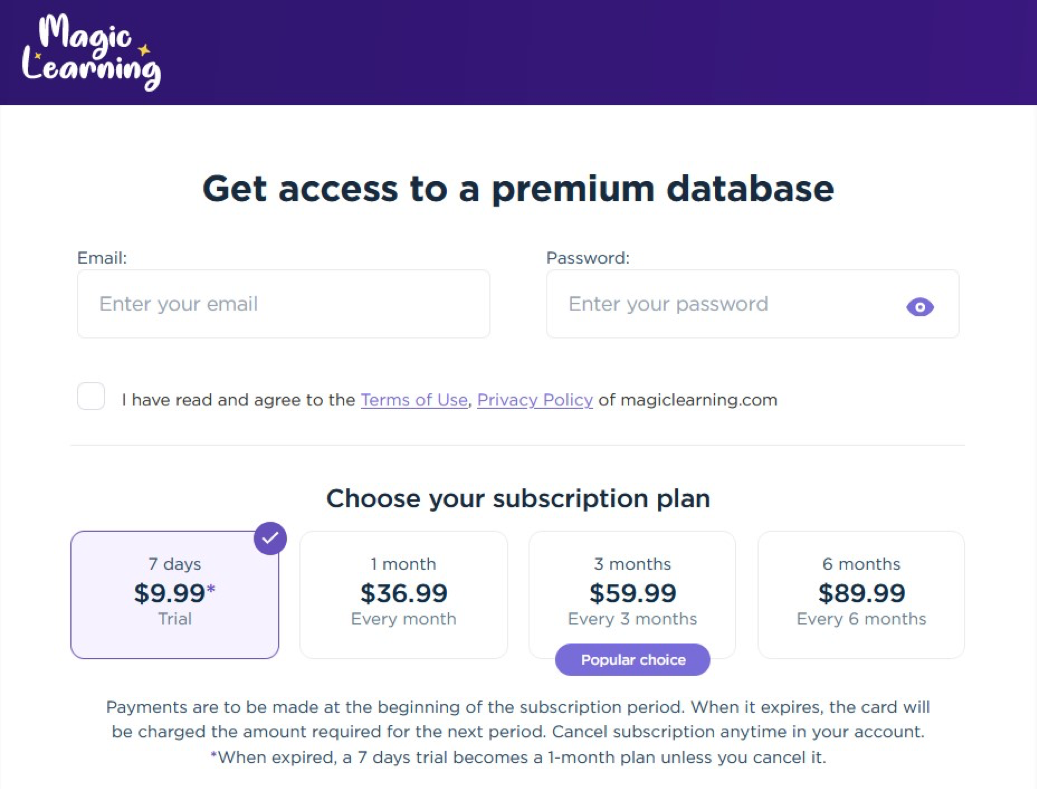 However, if you do not plan to use the service any longer, don't forget to cancel. Otherwise, your subscription will be automatically extended for a month, and your account charged accordingly. We haven't verified it yet, but it's customary for subscription services to follow up with a personal offer if you cancel or suspend to convert you back in. So who knows, maybe you will end up with a MagicLearning discount code that will make the subscription even more appealing.
MagicLearning Feedback
on Usability and Support
Navigating a database of such magnitude could be difficult, but developers took care of that. You can search by keywords, but there are also multiple topic categories. Some of the most numerous include:
Art
Books
Career
Communication
Economics
History
Management
Politics
Society
Technology
and many, many more.
The papers are also grouped by paper type, such as:
Admission essay
Business letter
Capstone project
Case study
Speech
and so on.
The number of available samples is equally mind-blowing for every option. For example, the MagicLearning.com essay section contained 637,156 at the moment we tested it for review. Luckily, you can narrow the search down by setting the topic, type of paper, and page range all at the same time.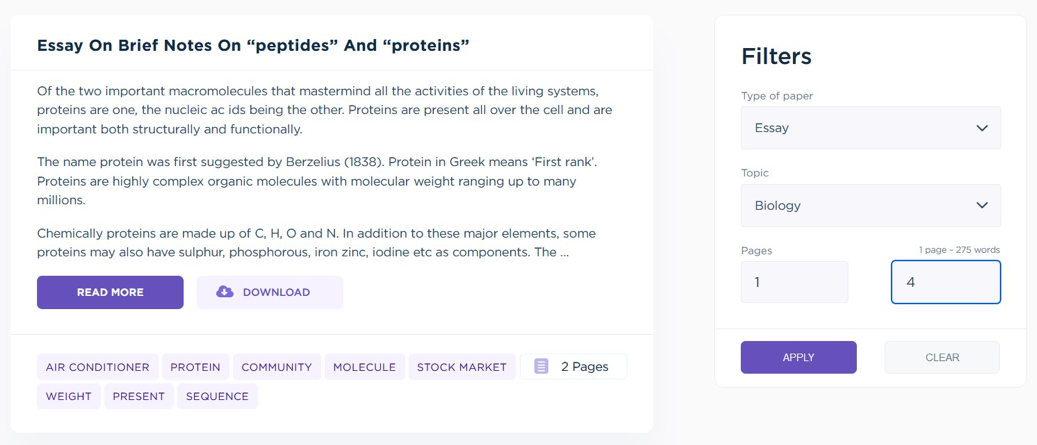 There are also tags showing all relevant subjects mentioned in the paper – those are searchable as well. By the way, search is available for every user, so you can go there right now and appreciate the volume of the library for yourself. However, should you want to read the full text of any paper or download it, you would have to register and buy a subscription.
Registration is as straightforward as it gets. You must use an active email as your MagicLearning.com login and pick a password. It is in your best interest to come up with a complex, unhackable one. Still, they won't badger you for not putting uppercase letters in it or something like that – that's a relief. Then, you choose your payment method and give your billing details. Of course, this is the crucial moment when doubt creeps in on you: "Is MagicLearning fraud? Can I trust them with my financial info?" Expel the thought from your mind. As we already mentioned, these are white-hat guys interested in their customers' long-term collaboration and trust.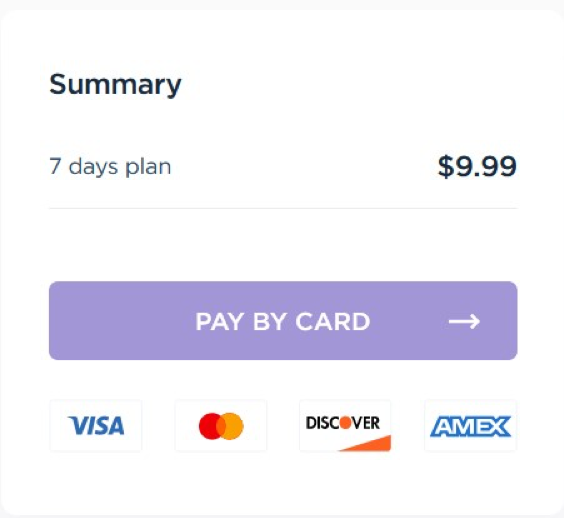 We must definitely mention the speed among the downsides – sometimes it takes several extra seconds for search results to load. Not that much, but c'mon. We haven't got all day. Things to do, essays to write.
On the other hand, given that they need to parse 1,000,000 papers every time to return the search results by keyword, this minor setback is not a thing to begrudge, really.
Support is competent and indeed available 24/7, although only via online chat and email. As a hardcore night owl, yours truly had been quizzing them live on the service particulars about 2 a.m. and got detailed and precise human responses every time. It's nice to know that you will get immediate assistance if anything goes wrong.
Is MagicLearning.com Legit?
Given the nature of the service, this question is not an idle one. The answer depends on how you plan to use it. The library itself is absolutely legal. However, you must use it responsibly. Should you want to copy anything without attribution, that would be plagiarism – and an easy thing to uncover, at that. Some of those papers are bound to be donated by students who have submitted them earlier to their schools. Therefore, if you intend to use them as models for structure and style – go ahead. However, if you thought these are pre-written essays that can be copied and submitted as-is – we must disappoint you: that would be risky.
Key Takeaway on MagicLearning Samples Database
To sum up, the MagicLearning database is a refreshing development in the world of academic assistance. The wealth of topics, subject areas, genres, and styles presented on the website makes subscribing a worthy investment. It's a great way to supplement your writing efforts. However, it should be used with caution so as not to toe the line of plagiarism. The loading speed and search tools need some improvement. Yet given the product is new, we believe this is still a work in progress, and better things are coming.