Summary
Providing paid access to a sample essay database and professional editing services distincts kibin.com from typical writing mills. However, above-the-market-average prices, poor customer support, and inconvenient search through samples prevent it from becoming a really rewarding option for students.
Kibin.com is no writing mill – it offers students an extensive essay sample database and provides assistance in editing and proofreading their own pieces. Both types of services are paid, but whether they are effective remains an open question. The thing is, while being quite pricey, Kibin editing may result in only slight improvements to your text. At the same time, not all Kibin essays in the database are composed by degreed experts, hence making it quite hard to use them as writing models. However, kibin.com remains a completely legit and legal service – unlike essay writing agencies, addressing which could be considered academic cheating.

Keep reading this Kibin review to find out more about the service's prices, free writing tools, and other features.
Kibin Discount Code and Pricing Policy
To those students who aren't sure of structuring, formatting, or simply can't overcome the writer's block, a flawless writing example can be of great help. Kibin claims its database contains around 500K samples covering different topics and paper types. Yet, whether you're looking for a Kibin argumentative essay or an admission paper example, you'll need to subscribe in order to view the full version. While a monthly subscription costs $14.95, a yearly plan is available at $59.95.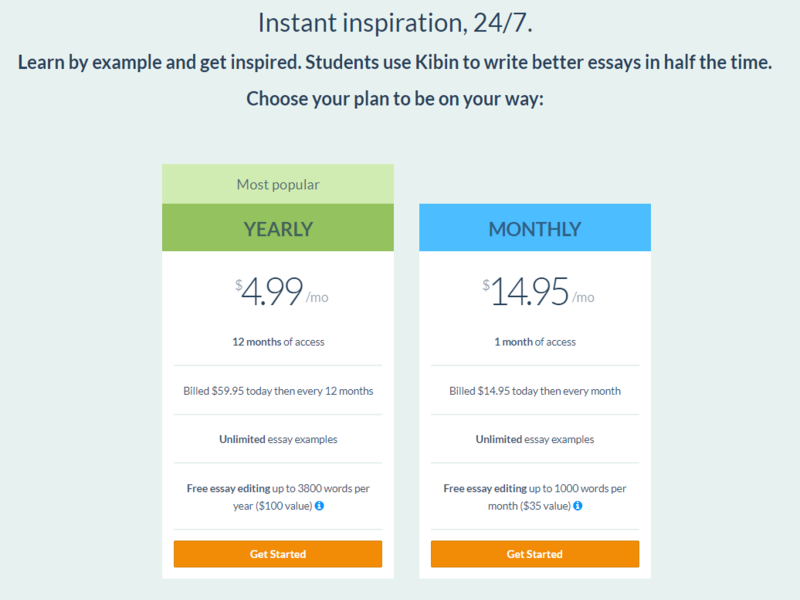 Both Kibin plans include a limited number of words you can have edited by a professional (1K with a monthly subscription and 3,8K with a yearly plan). Editing & proofreading services can also be purchased without signing up for the library of samples. You can pick a specific editor from an on-site directory. According to the site, Kibin jobs are only provided to ENL professionals. The editing prices start at $19.99. You can pay for any Kibin service with Visa, Master Card, or PayPal.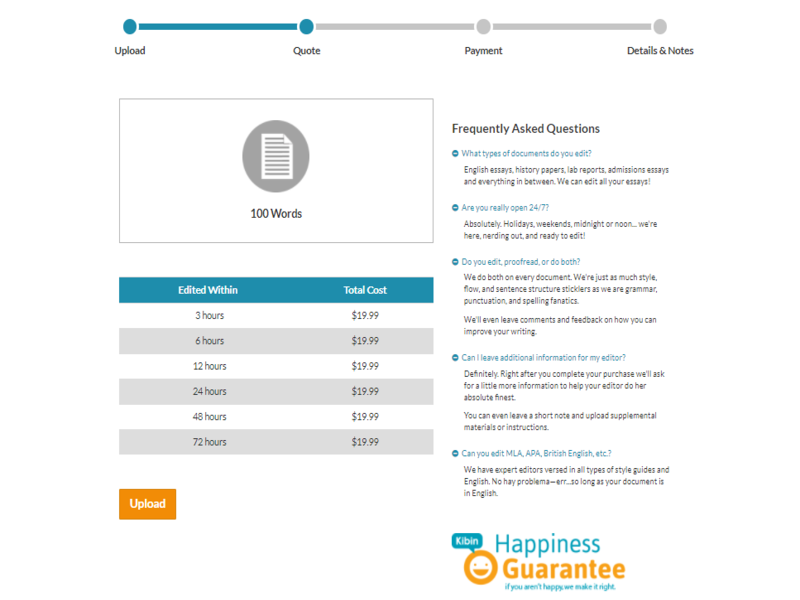 Unfortunately, kibin.com won't provide any discounts or special offers to the customers. Considering its above market-average prices, this fact is rather disappointing.
Review of Kibin Editing Services and Paper Samples
The idea behind the essays library is grand: students can utilize it to find fresh research topics, explore the best writing and content structuring practices, learn formatting styles by examples, etc. But are Kibin samples worth the money you pay to access them?
Although having 500K samples in the database sounds impressive, the lack of searching filters might make it hard to find a piece you need. Papers are only categorized by types, themes, number of words/pages, tag words, and by indefinite criteria "staff picks."
To check out the quality of writing, we purchased a monthly plan and downloaded several dozen samples. While a few were well-structured and contained solid points, the rest clearly lacked expertise. Looking through clients' reviews on Kibin proved our assumptions: the majority of samples might be the works uploaded to the database by students. Not quite what you expect when you read about "essay writing expert" on their homepage.
What's Wrong with the Kibin Essay Database Support Service?
Yet another Kibin's weak point is its customer support, or should we say its absence? Kibin.com's got no client servicing per se. Willing to inquire about the Kibin coupon code and discounts, we hit what looked like an on-site chat button. However, the pop-up window didn't start a conversation; instead, it had FAQ and Contact sections. While the former was clearly useless, the latter opened an online form that users can use to send questions directly to Kibin editors. Having sent our message, we immediately received an automatic reply promising to resolve our issue – and never got any actual answer up to date.
Is Kibin.com Legit and Safe?
The service does promise your confidentiality and runs all essays through the Kibin plagiarism checker. Also, you can cancel the subscription through your account free of charge – the feature that not every paid sample database offers. But at the same time, kibin.com reserves the right to share content you upload to its free Paper Grader tool. It also won't give you a refund. So, is Kibin safe? Our answer would be yes, if you are ready to give away texts you run through their utilities.
Is Kibin Free Writing Tools Library of Any Use?
Aside from an ample writing blog, kibin.com only offers two free tools – a Kibin thesis builder (which only works for argumentative and compare & contrast essays) and a Paper Grader (where you voluntarily upload your essays and let a Kibin editor view and evaluate them for free). We wouldn't call any of these tools highly effective as the results we got with both utilities looked like they were produced not by a human but by software.

Our Verdict
With the minimal $14.95 charged per monthly access to the sample database and $19.99 for editing, kibin.com cannot be called a cheap service. While the quality of exemplar papers is mostly good, the level of editing is not always as high. We definitely have seen and reviewed larger databases with better samples' quality and more convenient search filters. Although one can get good results with this service, that would be a particular person's achievement, not Kibin's.