Summary
HomeworkDoer is far from being the best company on the market. Use it at your discretion for assignments of minor importance. Although my order wasn't mishandled per se, it could have been fulfilled better. Additionally, there is no price list, which makes it difficult to compare the company's offerings.
HomeworkDoer.org is an online writing agency that offers cheap help to students and professionals. The company delivers academic and business writing services that range from everyday math problems to personal resumes and cover letters. It also provides editing and proofreading assistance to its clients for a specialized quote (papers ordered at HomeworkDoer are edited for free). The main page of the company's website trumpets its numerous benefits and claims that it has been established to remove the gap in the marketplace by selling "premium papers that 100% original and delivered in time." Even though the market is flooded with companies that adequately serve their customers, thereby preventing the said gap from occurring, let's take HomeworkDoer's claim at face value and investigate how it serves its own customers. After examining the website for a mere five seconds, one could almost hear that it quietly whispers negligence. Why? For starters, there are many instances of skewed text formatting on the home page. The website is filled with grainy, pixelated images that make my eyes hurt. It also informs its visitors that per the company's paper format, there are 275 wrods per page.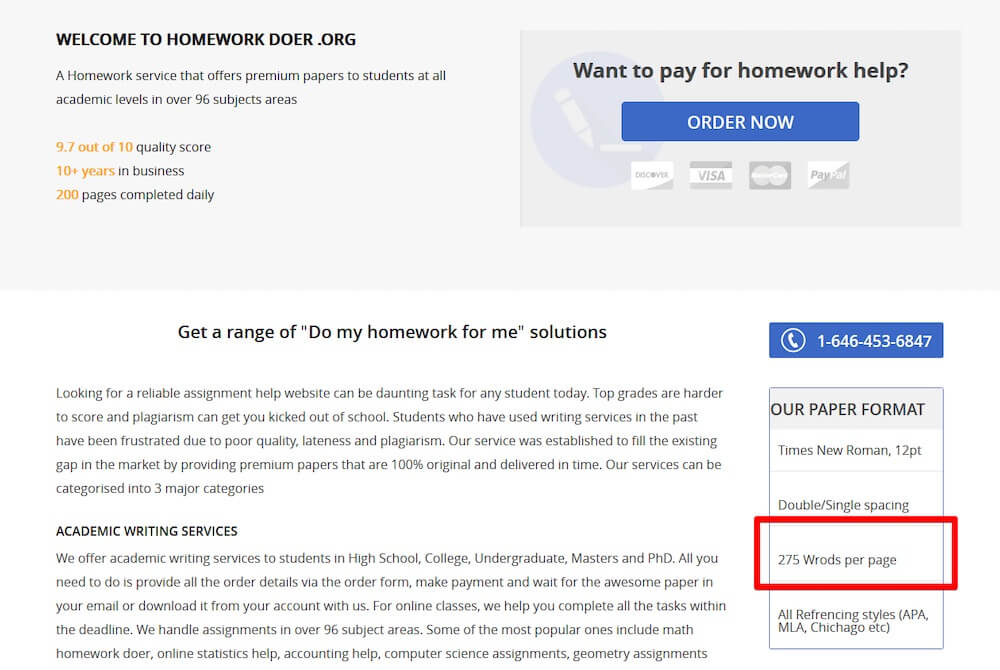 I could continue, but that is beside the point. What I am getting at is this: the poor website design throws a shadow at the company's reputation and makes me wonder whether it really provides premium services. Let's find out.
Homework Doer Price and Discounts
Homework Doer sells academic papers for cheap. At least that's what its website claims: "prices as low as $10 per page." However, after the close examination of the website, I wasn't able to locate a price list. The only pertinent information on the issue divulged to customers is that when charging for its services HomeworkDoer considers the deadline, academic level, and the page count.
I went ahead and placed an order. Much to my amazement, the ordering form didn't feature the page count section, which is why I wasn't able to select the needed number of pages for my essay. Not particularly convenient.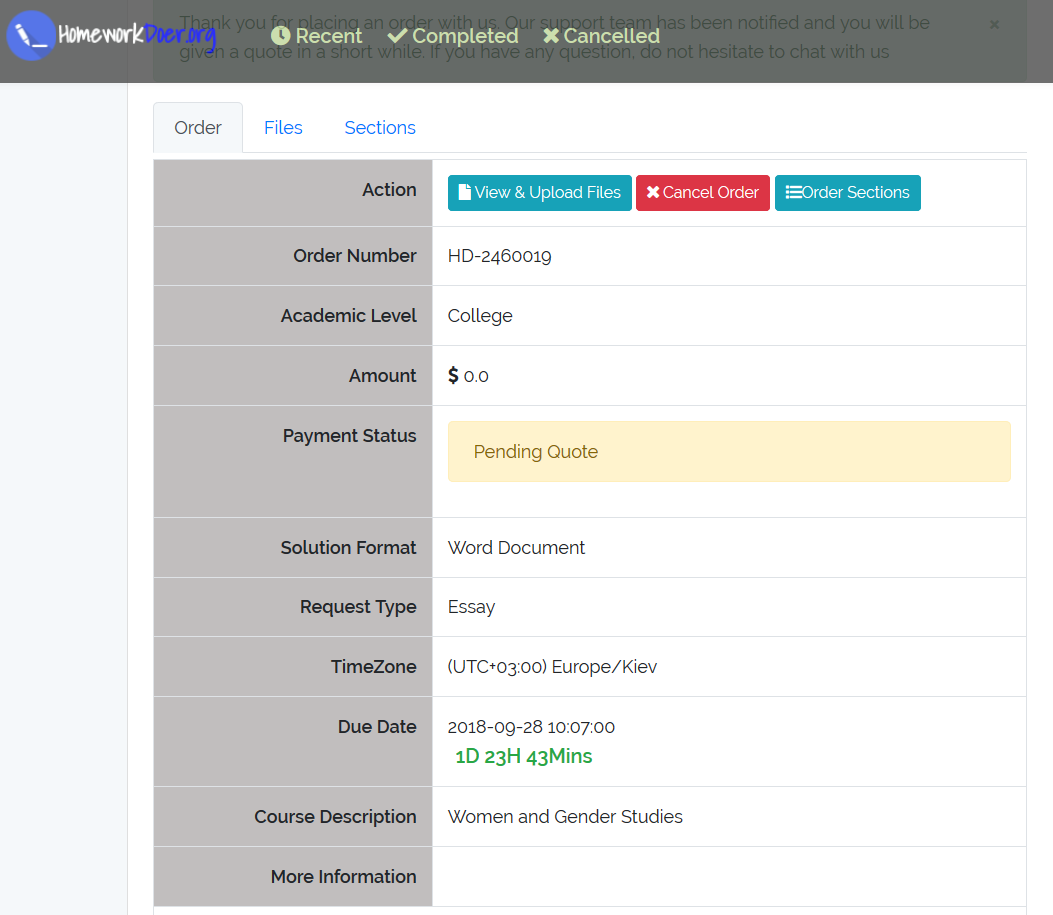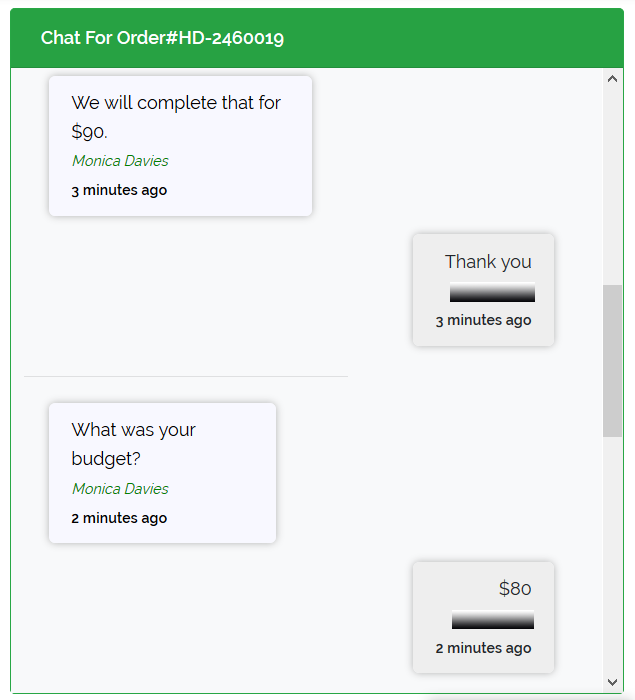 Not knowing what to do next, I decided to use the online chat to reach the company's customer support team.
Fortunately, a customer support rep responded to me within a minute. They let me know that a 3-page essay with a 2-days' deadline will cost me $90. What transpired next completely befuddled me. The rep asked me about my budget, thereby implicitly suggesting that the initial price point could be lowered. I replied to them that my budget was $80 and immediately received a short response – "Deal."
Although $26 per page is a decent price for the college essay written in such short term, I wanted to look for a discount. A dedicated section of the website informed me that discounts for orders above $50 are applied during order placement. Other discounts are only available for customers who reach certain spending thresholds: $500, $1000, and $2500.
Homework Doer Writing Service Review
HomeworkDoer does a good job of presenting itself as a comprehensive writing service that helps students with everything short of coding. The company's experts write papers on Science, Statistics, Physics, Accounting, and Math among others. I looked for help with Spanish, French, and other foreign languages, but it seems that the competence of their writing team is limited to English only. Therefore, I used an automatic ordering form to request professional help with a Gender Studies essay. The form was fairly straightforward and even had a field for uploading assignment files with pictures, which is quite convenient for middle school and college students.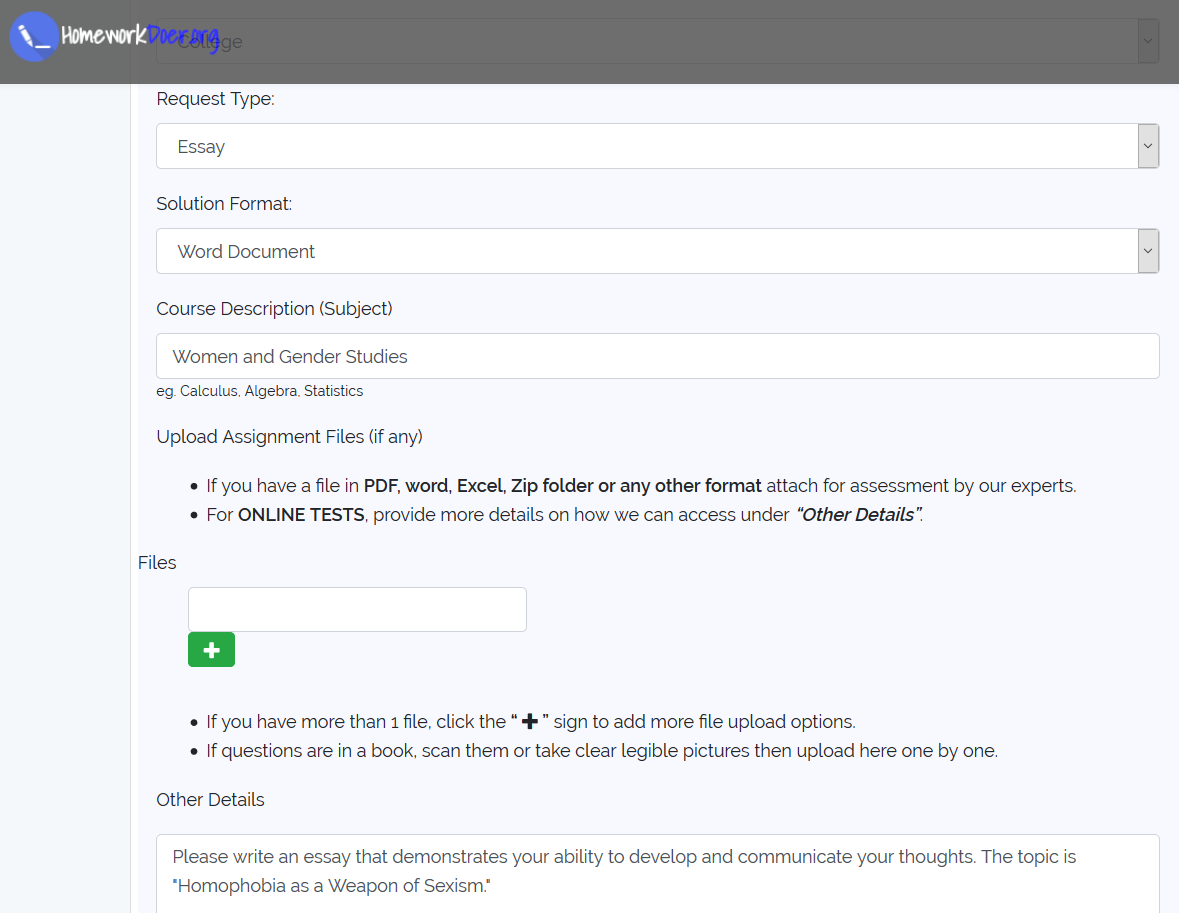 The paper arrived as was requested – in two days. The objective of the essay was to discuss how conventional gender roles contribute to the rise of homophobic sentiments, which serve as vehicles for propagating sexism. The writer has opened the essay with a discussion of the toxic influence of male dominance in patriarchal societies on women's wellbeing. They dedicated more than a half page to the explanation of multifarious manifestations of sexism such as prejudice, discrimination, rape, battering, verbal assaults, and mental abuse among others. While there is certainly a place for the discussion of the poisonous effects of misandry and misogyny, the author should have been more succinct. By focusing on patriarchal power in the introduction, they closed the door to the discussion of whether sexism translates into homophobia, which was the whole point of the essay. For the sake of fairness, it must be mentioned that the introduction was crowned with a relevant thesis that read as follows: "In this essay, I will demonstrate the link between sexism and homophobia and argue that certain structural interventions are theoretically promising for underprivileged populations." Although the thesis finally brings the issue of gender-based prejudice and its bearing on the spread of negative attitudes toward homosexuals, it would be more suitable for a research paper rather than an essay.
The paper's body was dedicated to the apt discussion of males' tendency to dominate and control and how it translates into violence against women. The author argued that homosexual females are punished by the male-centric society for "stepping out of line." The punishment often takes the form of condemnation and ostracism, which can result in the development of internalized sexism in its victims. Clearly, the writer did a great job of exploring the issue.
I ran a quick plagiarism check using a commercial service Copyscape to ensure that HomeworkDoer's writers do not resort to the ignoble practice. The results returned by the software showed that the essay was indeed original.
To sum up, the paper was solid; however, the writer's choice of format was rather questionable. They've also made some missteps in the introduction, which is why the paper cannot be ranked higher than 4 out of 5.
Math Homework Doer
HomeworkDoer.org also helps students with algebra and geometry assignments. Unfortunately, I didn't have a chance to familiarize myself with work of the company's mathematicians. To get a taste of what it might look like, I clicked on the Samples page and discovered that it was missing. Thus, I cannot provide you with an expert opinion on whether it is safe to trust the doers with your math assignments. Use your own judgment.
HomeworkDoer Customer Support
The agency communicates with students using both a call center and a live chat. The chat I had with the customer support rep showed that the response time was superb. The short conversation did not allow me to properly assess the rep's communication skills, which is why I made a call. A person on the other side of the phone was friendly and cheerful. It seemed that she had a great knowledge of the company's services and was ready to tackle any issue a client might have. Thus, the customer service representatives earned 4.5 for HomeworkDoer.
Is Homework Doer Legit?
My ordering experience proved that HomeworkDoer.org is a real company and not a mere façade for scamming purposes. So, feel free to use it to unburden yourself a bit and get through a rough time in university.
HomeworkDoer's Rating and Final Verdict
The overall impression of HomeworkDoer is largely positive. It was spoiled to some extent by the atrocious website design and the improper essay introduction. These flaws notwithstanding, the company can be recommended to students. However, given that the experience wasn't smooth, the agency scores only 4.3.
WePapers.com Review
In case you want to kep digging into essay writing companies, pay special attention to WePapers. We believe that it will suit you and here is why.