Have you ever been baffled by the "global" in our website's name, while everything we write about is the US and UK-based services that cater to English-speaking customers? It's time to rectify that! Meet Ghostwriter4u.de – a custom writing resource for German students or anyone who needs an excellent paper written in Deutsch.
An Overview of Ghostwriter4u – Academic Ghostwriting Service
The word "ghostwriter" is usually associated with celebrities writing their biographies or prolific bestselling authors who outsource some of the less important chapters to invisible helpers in order to churn out sequels faster. However, a ghost writer is anyone whose job is to write on demand without retaining IP rights to the content they create. The last part is responsible for the "ghost" in the name.
If you are a student struggling with your multiple new responsibilities and outsourcing some of the writing tasks sounds like a good idea, there is a ghostwriter for you, that is Ghostwriter4u.de!
The website is focused on academic writing, from homework to Ph.D. dissertations, which is probably nothing new for some of our devoted readers, except this service operates in Germany. This is quite a gem for everyone who needs their papers written in German: if you are enrolled in one of the European schools in Germany, Austria, Belgium, Luxembourg, Switzerland, or Liechtenstein, if you are an exchange student in one of these countries, or you live and study in the USA, but major in German language and literature. Let's get acquainted with this lovely outlier.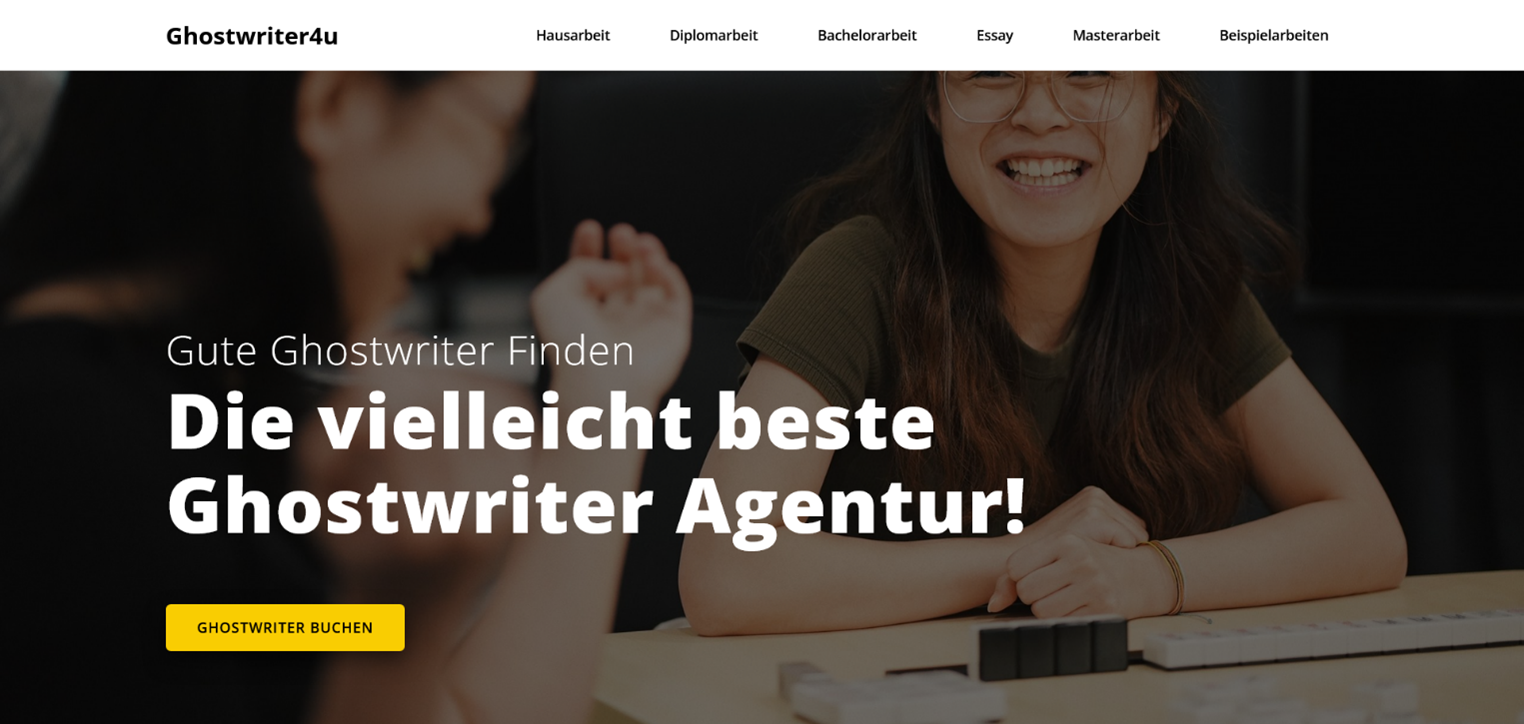 Notable Features and Ordering Process
The website has a very happy vibe, with its clean interface, cute icons, vibrant color accents, and a lot of smiling faces in the photos – I wish this trend of having actual photos in design never went away. So yes, the design does seem a bit dated in this regard, but I like it.
Anyway, you won't need my long guides to find exactly what you need and order a paper from them – that is, if you speak at least basic German because that's the only language version they have. You click on the "Ghostwriter buchen" button ("Hire Ghostwriter" for the sake of folks back home), and follow the steps in the order form: choose the academic level (the levels are based on Germany's education system), type of paper, length, deadline, topic, style, etc. Then, you pay for the order and get access to your on-site dashboard, where you can see the progress of your paper, from the suitable writer being assigned to the final draft being checked and ready for download.
The range of paper types is impressive, with several dozen available in each subject, so I won't list them all here to save you time. If your school assigns it, they have it listed, believe me.
What they also have is a samples display that currently comprises about a dozen essays, but it looks like it's being regularly updated, so there are more to come, enabling you to assess the style and the depth of analysis before you go on and order from them. That's the only German website with samples that I've seen so far – part of what made me review ghostwriter4u in the first place. In my experience, it's a telltale sign that the service is a legitimate business, not a scam hunting for a quick buck.
Ghostwriter4u.de Review of Prices
The prices are pretty affordable, especially by European standards. The rates per page start at $10 equivalent, but that's for the simplest type of work, the lowest academic level, and a prolonged deadline, so most of the services look good from that point, while the prices for urgent orders rise steeply.
However, as an exchange student or someone needing a paper in German for one specific course, you are unlikely to forget about your assignment until it's due tomorrow. You are likely to plan your load because writing in a language that is not your first takes time and a lot of effort in editing. Hence, you are the most likely one to benefit from the remote deadline perks.
Another factor influencing the price is, of course, the academic level, but you can't get around it by planning, lol. In my experience, you are always better off by ordering within your actual academic level: the writing services have a whole range of them for a reason.
Anyway, the papers are very affordable for their indisputable quality, and if you are a new or returning customer, you are bound to get some promos and coupons.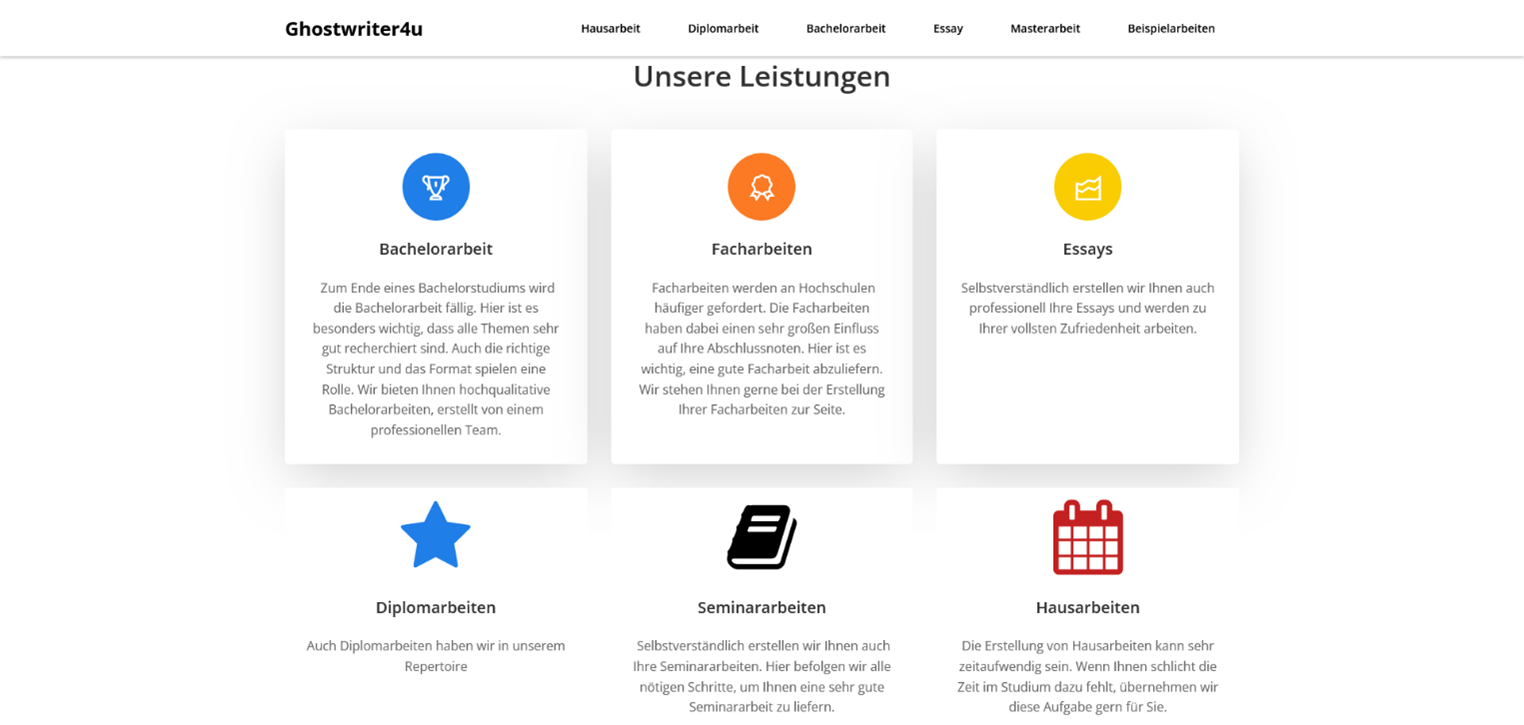 Writing Quality of Ghostwriter4u
As my level of German is somewhere between B1 and B2, it was sufficient for navigating the website, placing the order, and communicating with customer support, but not enough for assessing the stylistic nuances of the academic paper on complex social issues (for testing purposes I ordered a research paper on the effectiveness of immigrant integration programs).
The essence was spot on – as a Social Sciences major, I can attest to that. As for the language side of things, I had to ask my German professor for her opinion, and she said that it was "Zehr gut," save for a couple of typos that didn't distort the meaning or amount to bad spelling – just goofs you don't really notice when you are editing your own writing. For the overall volume of over 8 pages, there was nothing to prevent the paper from receiving an A.
The Verdict on Ghostwriter
Overall, I can recommend Ghostwriter4u.de with a light heart. The service is reliable, delivers on time, and clearly employs experts worth their salt, so check, check, and check. The only qualms I might have are about the absence of the English version of the website menu. Of course, it's not strictly necessary for the service that targets German-speaking demographics. Yet I have a feeling that many students who receive homework in German but aren't themselves native speakers would benefit from Ghostwriter, so the website kind of cuts off some of their potential customers. For this, it's 4.8 from me. Otherwise, it's excellent.
This was an exciting experience and a positive one at that. Ghostwriter4u.de made me want to review more European websites, so if you want to hear about other options in German or other languages, let me know.