EssaysWriter Service Overview
EssaysWriter is a service that flew under my radar for quite a while. I blame the lack of any distinct, unique positioning for not being able to attract my attention earlier. Most writing services have a clear message expressed in their design and marketing. Some say, "We are the fastest!" Some claim, "We are the cheapest!" Some put on their expert hat and insist they are the most knowledgeable. Others focus on creating a friendly and fun image to attract students tired of "all work and no play."
Yet when you first see EssaysWriter, it looks like it doesn't know what it wants to be. Even the name is disarmingly unassuming and blunt: we write essays, duh. As for the website, I must say the coquettish color palette made me think I stumbled on either the lingerie catalog or the cosmetic clinic page. Overall, the design is a bit dated, but what do I know? The 90s nostalgia is big – maybe that's exactly on the money. Luckily, the website's performance doesn't match the look and is up to speed with 2023 (yeah, I can compare, I've been around back in the day, believe it or not).
Behind this boring façade, however, hides impressive functionality, well-thought-through UX, and, most notably, high-quality writing. EssaysWriter doesn't limit its services to essays: you can order editing and proofreading, calculations, STEM problem solutions, help with multiple-choice questions, and writing samples of all imaginable paper types, from high-school book reports to a Ph.D. dissertation in marine biology.
Now let's talk in more detail about prices, the ordering process, free tools, and other unique offerings of this service.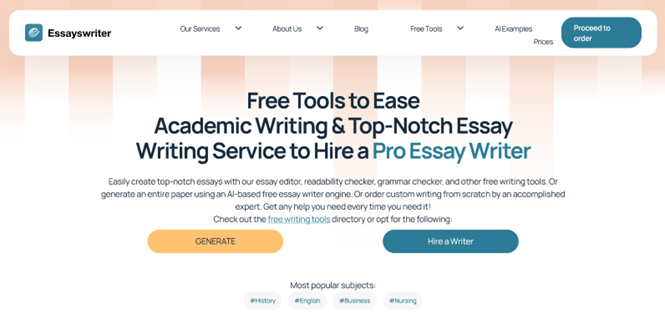 Ordering Process
Even in the user menu, EssaysWriter persists in its blandness with the button saying "Proceed to order" instead of the usual chirpy "Buy paper" or clear and direct "Hire writer" usually found on such websites. I tell you guys, it's as if they were afraid of becoming too popular and attracting too many clients.
Yet here is where my nagging ends because their ordering form is something else: clean, intuitive, and to the point, with nothing to add or take away. You just select what you need among the options suggested and move from one step to another. The ordering process flows seamlessly, and if anything is not immediately evident, there are hints hidden behind the little question mark icons, explaining everything in more detail.
First, you choose whether you need a piece written from scratch, paper improvement, or problem-solving. Then you select the academic level: high school, college undergrad, Bachelor's, Master's, etc., choose the type of paper from the dizzying variety of dozens and dozens of genres, indicate the word count or number of pages, and set the deadline. Then you give particular instructions by typing them or uploading a file with your prompt and assignment details.
Finally, you can customize your order with particular services and benefits: requesting the best writer, adding charts to your paper, reserving queue priority, etc. You will always see your order's preliminary summary, displaying its key characteristics and price estimation. Once you are ready to commit, check the summary and choose the payment method – et voila!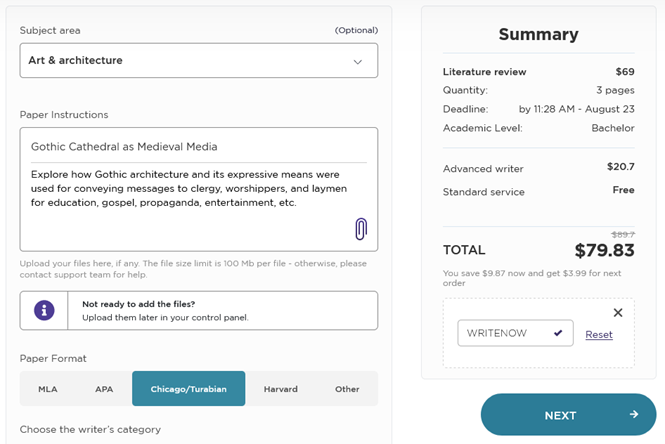 Best EssayWriter Review on Prices
While we are on the topic of the payment, a quick word about the prices, because they are good. Not too good to be true and raise any suspicions of scam, but quite attractive. The lowest price per page is $10 for a high-school paper, gradually rising throughout the levels, with Professional (Master's and higher) costing a minimum of $21 per page.
Of course, these are the numbers for a remote deadline of 20 days. If the due date is closer, the price goes up a notch – $12 per page if the deadline is 14 days away. Naturally, the picture is entirely different for urgent same-day papers, especially those on a minimum 3-hour deadline. These can cost you a bunch, which illustrates once again the importance of good planning.
This, however, is a typical picture for the overwhelming majority of services I've tested. Those few who don't have this correlation tend to have high prices throughout, regardless of the deadline.
Is There Any EssaysWriter.org Discount?
No matter how attractive the prices are, a coupon never hurts, especially if you are a student with guaranteed expenses and few sources of income. I have good news. EssaysWriter offered me a first-time buyer discount while I was browsing their website and dunking on its design, which is rather sweet of them. Although I don't suppose they heard me tsk-tsking. Anyway, a banner with the promo code was always visible at the bottom of the page, offering me 11% off my purchase by submitting WRITENOW as a discount code at checkout.
When I tried to switch tabs and do some research, the banner turned into rather insistent pop-up that didn't want to let me go. Okay, sold. I came here with the expressive desire to test your service. I would buy anyway. Still, it's always nice to feel appreciated.
What is more, when I applied the promo code, it promised me a little discount on my next order too, so I suppose they have some loyalty program designed to keep you coming back. They do try, bless their heart.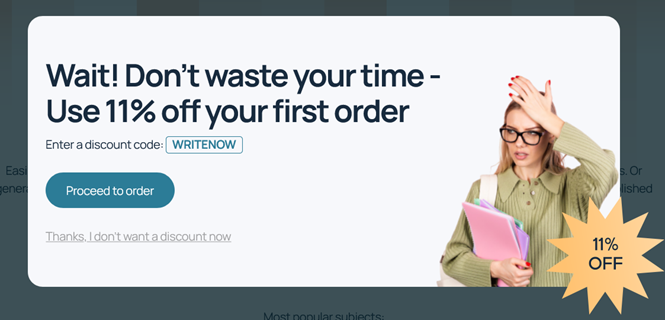 EssayWriter.org Review of Service Quality and Goods Delivered
Before I could whip out my card and swipe it (all metaphorically, of course), I registered an account using an email. After the payment, messages started coming in with confirmations, login credentials, notifications of successful transaction, and all that jazz. Although this was quite sufficient to keep me informed, I still logged into the user dashboard on the website to track my order closely. I messaged my writer just to say hello and attached my assignment sheet with all the instructions just to be on the safe side. No communication was strictly necessary. Still, I appreciate the opportunity of a direct line to the person who actually writes your paper. Of course, you can message customer support as well.
A couple of days before my rather extended deadline expired, a message came in notifying me that the writer had finished working on my assignment, and it was ready for me to check out.
The paper was diligently written and showed profound knowledge of the subject. If I had to complain, I'd say I wished for a livelier tone showing a bit more fascination with the subject and less authority since it was supposed to be on a student level. Still, I easily fixed that by simplifying some of the more sophisticated expressions with the help of Hemingway.
I did not need any amendments, but free revisions after the delivery are stipulated in the company rules, so it's nice to know you can fix anything that is not entirely satisfactory.
Other Boons of EssaysWriter: Free Tools and Samples
Custom writing is not the only feature making EssaysWriter.org a valuable resource for students or anyone who has to produce a lot of texts regularly, offering 20+ free tools: from AI essay generator to GPA calculator. Tools like the thesis statement, conclusion, and summary generator will help to write your paper faster while paraphrasing tool, word frequency counter, and unique words extractor will help you perfect your style. There is also a free online paper checker suite if you need a quick spelling, readability, plagiarism, and grammar check for college papers. For speedy formatting, there are a case converter, citation generator, and title page generator.
If you need some inspiration to battle writer's block, you can browse free AI-generated samples on various topics or generate your own quick-and-dirty draft.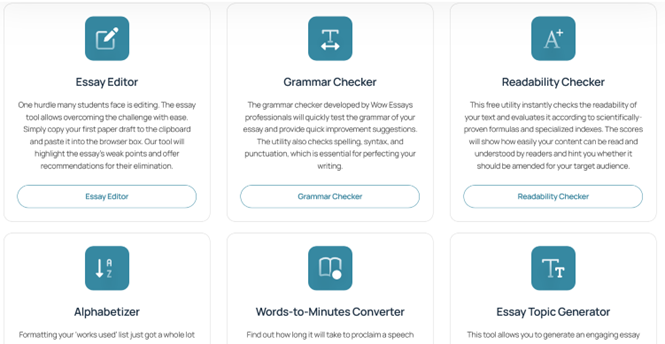 The Verdict
EssaysWriter is a "nice guy" of academic help websites. This fantastic service deserves more love and attention than it's probably receiving due to the lack of brand personality. It assists with all kinds of academic tasks, including custom writing, editing, calculations, homework, and even coding – all that at very moderate prices. Their writers give the impression of being knowledgeable on a Ph.D. level, which is key if you want to actually learn from your paper – not simply to hand it in. They keep the deadlines and provide direct communication with assigned writers. To top it all up, EssaysWriter hosts a library of free writing resources that is helpful for students and even professional writers. I'd say it's a treasure buried under the unpronounced positioning, so it deserves a rating of 4.5, fair and square.