Summary
Having ordered from Essay-Company.com once, not many will become the service's returning clients. High expectations and excitement from low prices might dissolve once you face mediocre quality of writing. This service might be given a shot for simple papers, but it's questionable whether you should order complex papers here.
Among dozens of services that promise to rid struggling students of the homework burden, Essay-Company.com has found its niche. After all, affordable prices can be a decisive argument for many. But will it really aid you in reaching your academic goals? Find out in a detailed customer review below.
Pricing and Promo Code for Essay-Company.com
To begin with, Essay-Company.com had entered the academic ghostwriting market back in 2006. That said, the service tries hard to point out its expertise and popularity, claiming it's "#1 essay writing service" out there. However, both its perks and issues don't differ from those of much younger companies. For instance, with a somewhat tangled FAQ section and overloaded home page, I wouldn't call the Essay-Company's site 100% user-friendly. One vivid example is the absence of a pricing chart: the only way to figure out the estimated cost of your future order is by using the calculator built into the order form.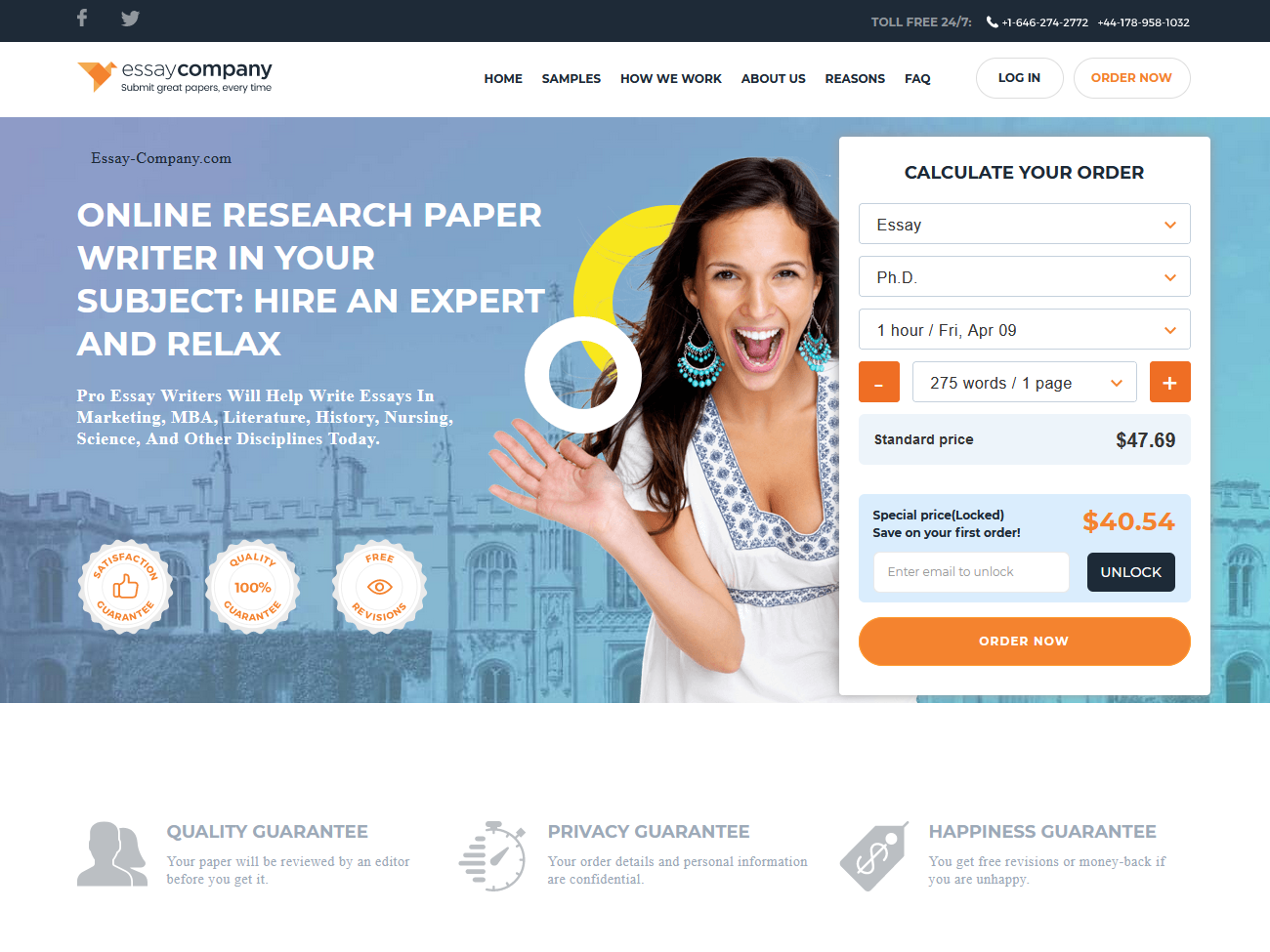 Speaking of prices, while they might not be the lowest on the market, they remain very affordable for the majority of students. Ranging from $8.95 (per page of high school essay with a 14-day deadline) to almost $50 (per page of PhD-level writing performed in 1 hour), they will hardly leave you broke. The span of deadlines at Essay-Company goes from 20 days to just one hour. Yet, with the shortest options, the service will send a notification, saying they might require extra time if the assignment appears to be too complex.
Speaking of complexity, Essay-Company considers such subjects as Mathematics, Physics, Computer Sciences, and some others "Complex" and will charge additional 10-20% of the initial price! That's something most other writing services just don't do in order not to scare away clients.
The company works on a pre-paid basis; paying in installments is possible only for large, complex research works. The online payment procedure is fast and safe, but to place an order, you should sign up and confirm your login first.
With Essay-Company.com, you'll get 15% off your first order; the discount code is 'First15'. You can receive promo offers and discount coupons to your email.
Is Essay Company Reliable? Services and the Quality of Writing
Essay-Company.com claims to handle all levels of academic writing from high school to PhD. The variety of works includes standard and admission essays, reviews, dissertations, and problem solving. Aside from original papers crafted from scratch, you can request formatting, editing and rewriting of your own piece.
The service allows you to choose between Best Available, Top, or Premium writer. Going with the two latter options adds to the initial price 30% and 60% respectively.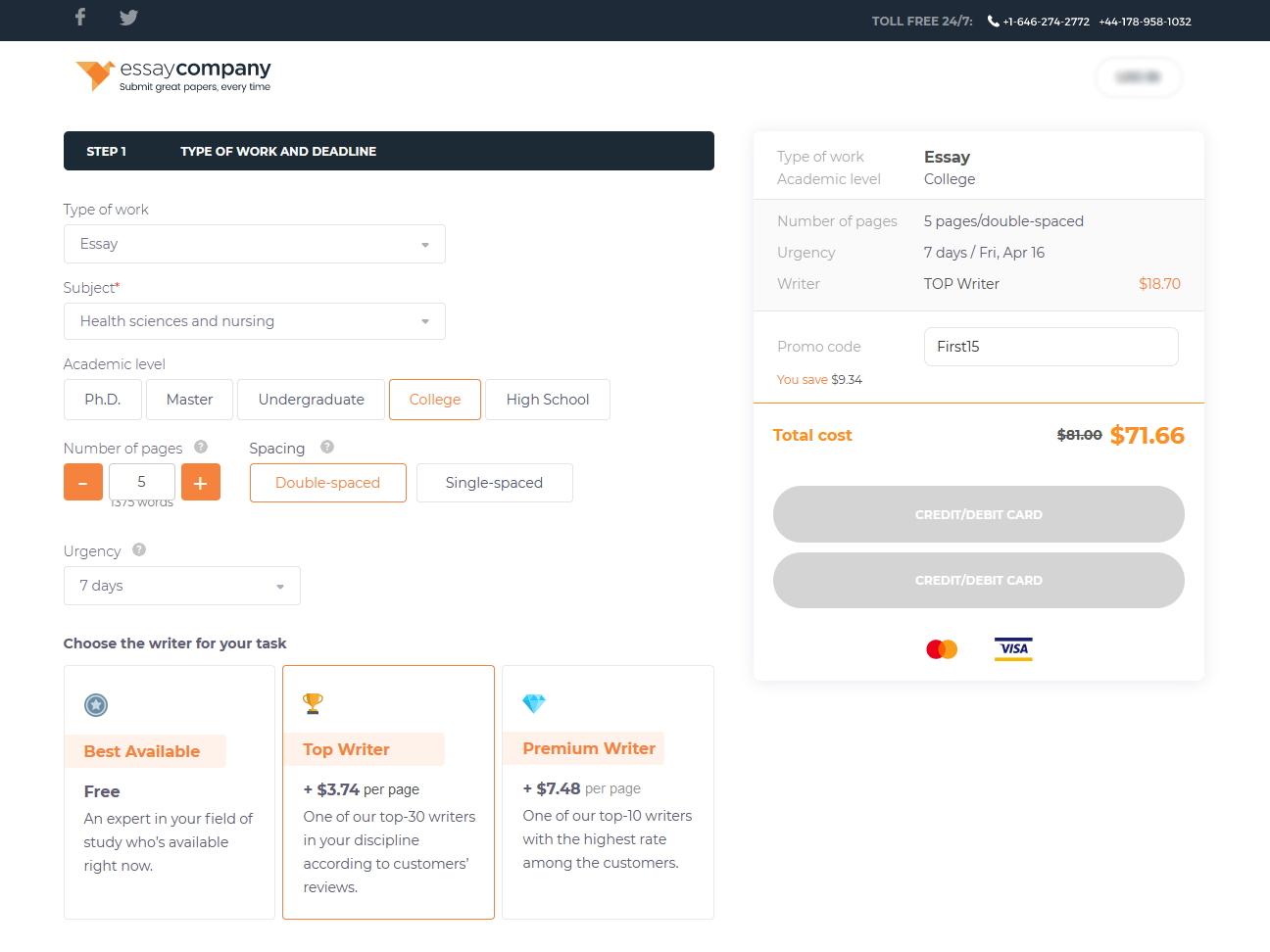 To check the level of Essay-Company's services, we placed a test order. A 5-page college-level essay on nutrition by a Top writer cost around $72 with a 15% discount. While we set a 7-day deadline, the paper arrived only a few hours before it. We can't say that the writing quality was poor, but it surely didn't reach the level you'd expect from a degreed native. However, with some proofreading and editing, it could qualify for a strong 'B.'
Reviews for Essay-Company.com Customer Support and Refund Policy
Support service at Essay-Company works 24/7 and can be reached in several ways: via phone, email, Facebook Messenger, or an on-site chat. The support representative we talked to replied to each message within seconds, was helpful and friendly. She sent me a first-order promo code and explained in detail how the service's refund policy. In a nutshell, you can only get 100% back if the writer hasn't started working on your order yet; in other cases refund rate might vary from 30% to 80%. By the way, you won't find this information anywhere on their website, which made us think that getting your money back from Essay-Company might be quite tricky.
Is Essay-Company Legit?
While a few online reviews on Essay Company.com surmise that it's a scam, we found no such evidence whatsoever and believe that the company is safe to use in terms of getting papers, confidentiality, and payment security. Besides, they are ready to revise your paper as many times as suffices.
Other Features
Essay-Company features a brief database of essay samples (just 12 pieces) in order to give customers the idea of writing quality. However, we cannot but point out that the essay we got wasn't quite as smooth as any of the examples presented on the website.
Final Verdict
Essay-Company.com is an affordable writing service: its prices (starting from as low as $7.6 with discount) wouldn't leave you without an arm and a leg. Unfortunately, the quality of writing remains average and won't score top grades. However, with the amazing one-hour deadline, you can give it a go in case of an emergency.