In college assignment help focusing on essay writing, STEM subjects seem to be a poor relation – disregarded and left out, which is a shame. After all, one can struggle with coding as much as one struggles with literary analysis – and benefit from the sample solutions just as well.
CodeBeach is here to fix that, which I applaud. As a student whose way into coding was thorny, to put it mildly, I would definitely appreciate a service like this had I access to it way back when. Luckily, today's students don't have to face all their challenges alone.
An Overview of CodeBeach Programming Homework Help Services
CodeBeach.com is a comprehensive service helping students with all subjects: from Physics to Philosophy. That said, it's evident at first glance that CodeBeach puts help with programming assignments, coding & computer science homework front and center – and they aren't subtle about it. In case you didn't pick up the hint from the name, you will definitely get it once you open the homepage. The design screams "coding" so loudly that you might even decide you've got the wrong address and now find yourself on some hackathon website.
However, I doubt that confusion would last longer than a split second because the words "help" and "homework" are featured prominently, shining like a beacon to all the struggling students out there. I was tempted to order an essay simply out of my natural contrariness, but better angels won, and I decided that STEM students deserve to have more relevant information on services catering to them. Okay, let's spill the tea and get down to the details.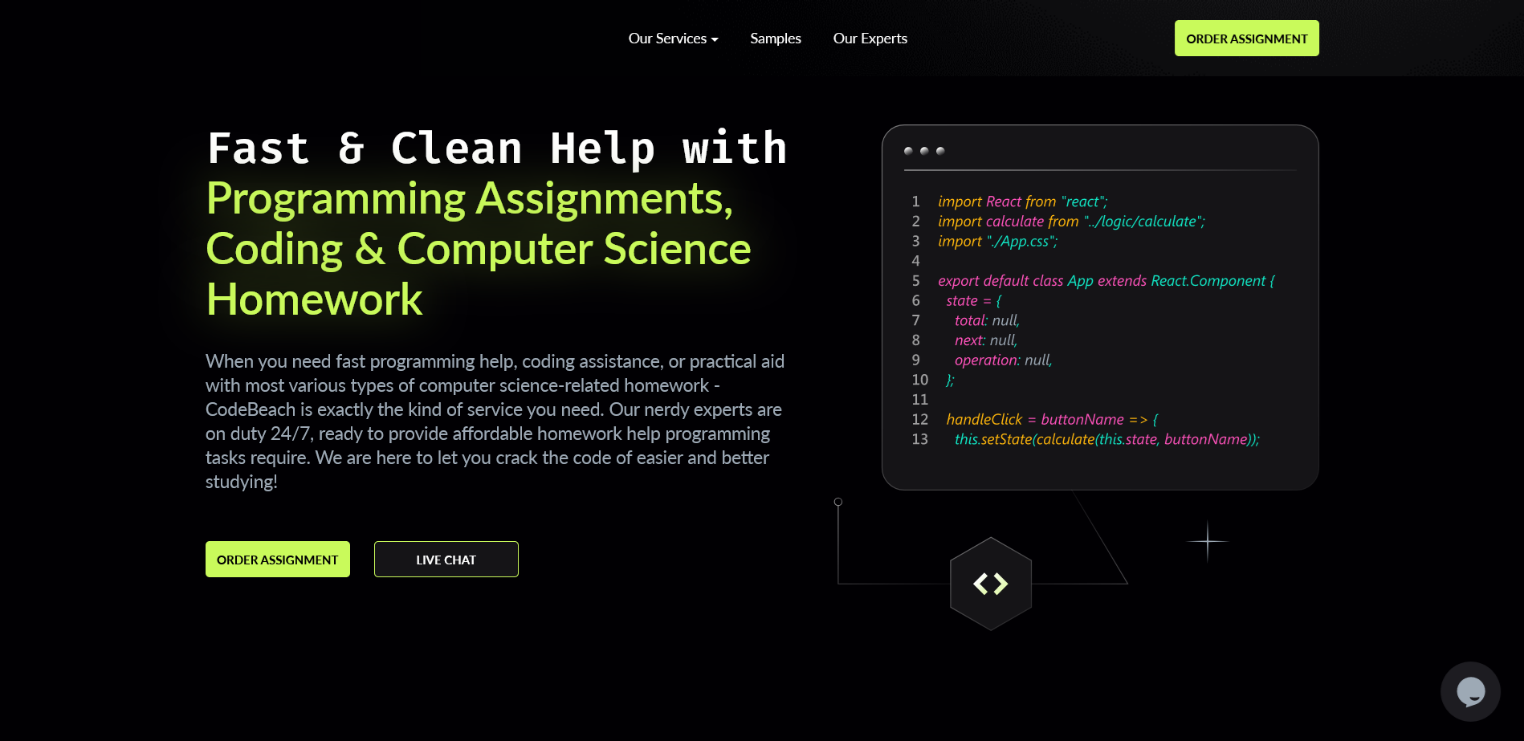 Ordering CodeBeach Programming Homework Service
When you click the highly visible acid yellow "Order Assignment" button, the coding aesthetic tones down a bit, giving place to a clean minimalism of an intuitive order form. Finding your way around it should pose no difficulty without me directing you – everything is very much straightforward.
You have a menu with the key parameters of your assignment: type (academic writing, editing & proofreading, and calculations), level (high school, undergraduate, bachelor, professional), subject area (programming, accounting, biology, etc.), and deadline. When any option is selected, it lights up with the same neon yellow. When you select writing, you can choose the number of pages or words to set the volume. If you need calculations, the quantity is measured in problems/questions. So far, so good.
On the next screen, you finally have an opportunity to state your case in detail. There is a field where you can paste your instructions, with a separate place to list which software should be used to complete the task. For lazybones among you, there is an option to add instructions as a file.
Of course, there are upsells right here on the page. Before you can click "Next," you will be tempted to choose a better expert, better service, extra notifications, and fries with your order. However, one particular boon did strike me as valuable, and I added "basic explanations" to the cart. After all, if you want to learn from the provided solution, you will need some clues as to how it was done.
That's pretty much it. Then you will have a summary of your order with the price and payment options. However, before you pay, you will need to register with an email if you haven't yet.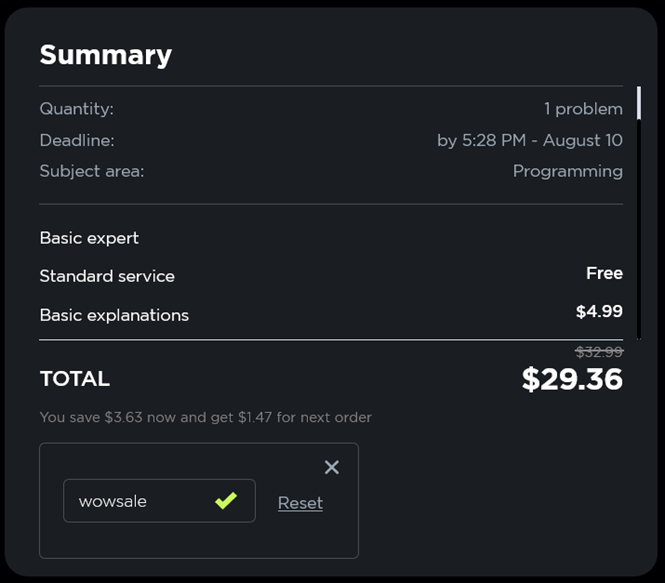 Codebeach.com Discount and Price Range
While we are on the topic of payment, let me answer the question on everyone's lips: "What about the coupon?" Indeed, one only has to feign hesitation and move a cursor to the "x" in the corner, how, lo and behold, a pop-up appears, treating you to an 11% discount. Yeah, you thought you tricked me into staying, but I knew exactly what I was doing. Candy from a baby.
The promo code I got was "WOWSALE," and I suspect it will work for any new customer, so help yourselves. Mind you, you should apply it before you start checking out. It also gives you a tiny discount on the next order as well. Thanks, I'll think about it.
Anyway, prices on CodeBeach are comparable with other services I've reviewed so far and follow roughly the same logic. At the bottom, you have editing, then writing, then calculations. Predictably, the higher the academic level, the costlier the assignment. Urgency will also add a substantial fee.
For the test, I decided not to go crazy and went with the standard 14-day deadline. One solution on an undergraduate level, with an explanation, on a two-week deadline cost me just below thirty bucks (with a discount). Ah, things we do for fame and clicks.
Yet jokes aside, the prices are pretty affordable, starting with $10 per page for the high-school essay and $15 per problem, which is quite decent. The prices depend the most on the deadline – the shorter the notice, the bigger the price tag. The minimum possible deadline will be the most expensive. By the way, the minimum deadline also depends on the subject area and the specific task. For example, 3 hours will be enough for a 1-page writing assignment, while to get a solution to a science problem, you will have to wait 6 hours. For a programming task, you can only set a 24-hour deadline and up. I suspect it depends on the availability of experts and on the complexity of tasks.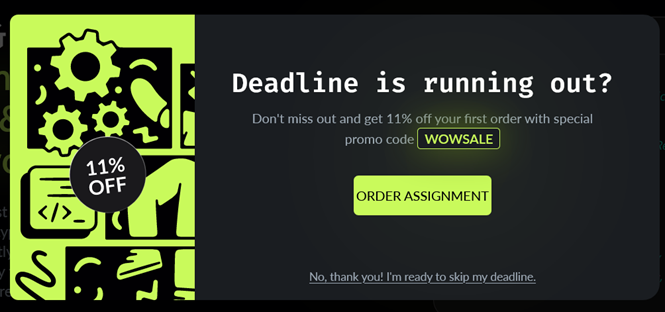 So, Is Codebeach.com Legit or What?
Okay, I know you won't leave without the answer to this question. That's why you've googled code beach programming homework help reviews in the first place: to learn whether you can order from the company without the danger of falling victim to a scam. Let me reassure you: I received my perfectly working solution with a short and sweet explanation three days before the deadline, no additional payment was requested, and no luxury items were bought somewhere in LA with my card – at least, not yet, haha.
From start to finish, it was a perfectly smooth and safe experience, and nothing raised any red flags or set off my inner fraud alert. Of course, being a new kid on the block, this service might make you a bit hesitant, but it's perfectly legitimate and trustworthy from where I stand – and I know a thing or two about cybersecurity.
The Solution Quality
Okay, so they delivered the goods – that's half the deal. How good are the solutions by their experts? I deliberately asked them to create a small utility app with Python that I'd worked on earlier this month so I knew the best way to achieve all objectives. I needed to see what they could offer. Moreover, I also made sure not to give one crucial piece of the puzzle in the assignment straight away and see how fast they would notice.
I must say, I was pleasantly surprised by an email notifying me that I had a message from my assigned expert. The expert cracked it and came in contact just several hours after I placed the order to clarify the task and ask which of the available options I envisioned. After that, he proceeded without my input and came up with an app that was nearly identical to the one I'd made, except maybe for a bit more disciplined and less creative pieces of code here and there. It was solid, I can't complain. I think I would hire him if I was launching a startup of my own.
The Verdict
Despite placing the emphasis exclusively on coding in marketing, CodeBeach is a homework help service that can assist with writing, editing, calculations, and programming in a dazzling variety of subjects. The complexity range is also impressive, starting with the high-school level and reaching a professional level. The skills of coding experts are commendable, and I can confirm that students can rely on them to learn a thing or two and have a sample of a clean code whether they are in a Computer Science program or learning independently.
While prices depend on many factors, they start at a very affordable level, and judging from my test assignment, it's an excellent value for money. The service is quite reliable and punctual, delivering assignments on time. Although the website leans into the "IT-core esthetic" a bit aggressively, in my opinion, I would rate my user experience at no lower than 4.5.