Summary
Usually, bidding is exciting. Not this kind though because all bids are similarly (and unnecessary) steep. The writing quality, on the other hand, is comically low. I wouldn't gamble with my money on this website.
There can be tons of reasons for why you can't write your paper yourself, from things piling up on you all at once to being uninspired by the topic to simply lacking writing skills — hell, some people manage to make absolutely astonishing arguments out loud, and when it comes to writing them down, they submit complete gibberish. Getting help with your homework is legal, be it your parents, friends, or some website you've seen reviews on or Reddit recommended you, so why not use it? You can find a number of sites like that after some basic Google or Yahoo search, and bid4papers.com will most likely come up as well. The peculiarity of this service is that instead of being automatically assigned by the service, the potential writers bid for papers upon your order (hence the name), and you can select the one to complete it, communicate with them directly, and make every arrangement personally. Sounds cool, doesn't it? There are some pitfalls, though. Let's see what we've got here.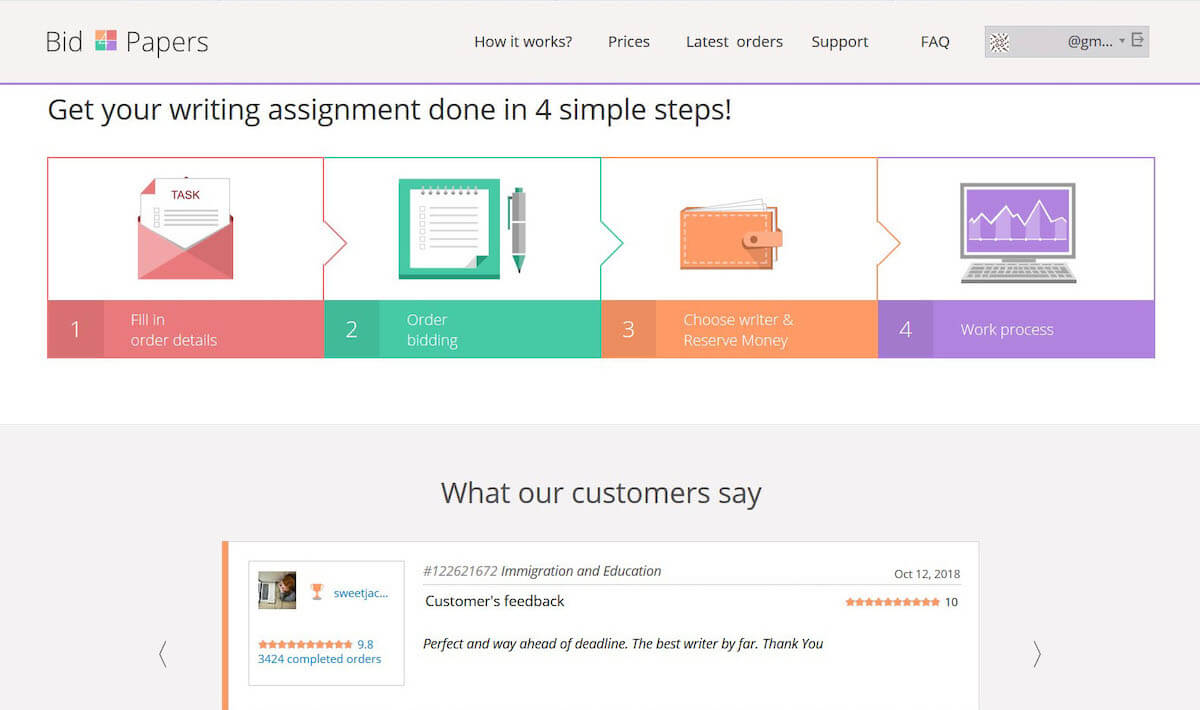 Bid4Papers Prices and Discounts
First of all, if you are looking for a service with strict and clear pricing, you will have to look elsewhere. Bid4Papers.com employs an auction system. As I have already mentioned, that means that when you place an order, the writers who believe themselves to be capable enough to write your paper bid for it suggesting their prices; you will have to choose from them. The price will depend on the length of your assignment, its topic, complexity, the academic level you need, and, of course, the deadline. As per what the website states, the average cost for a 3-page essay is in the ballpark of $80. But in reality, any number I can say here is a shot in the dark until you lay out your parameters. For the same reason, there are no discounts here. Quite a number of commenters on the net claim they have discovered Bid4Papers when someone on Reddit has offered a discount, but those commenters later found it impossible to apply for obvious reasons. You can try to bargain the price directly with your chosen writer, it is even encouraged by the service. On the bright side, you don't have to pay before you get your assignment or at least part of it. Some of your assets in your balance will be "frozen" when you select a writer for your order, but this money can be refunded before you pay the writer. Yet, once you've paid, the money cannot be returned. This is a downside of the no-intermediary system, literally everything is up to you and the person you work with.
How Does Bid4Papers Work?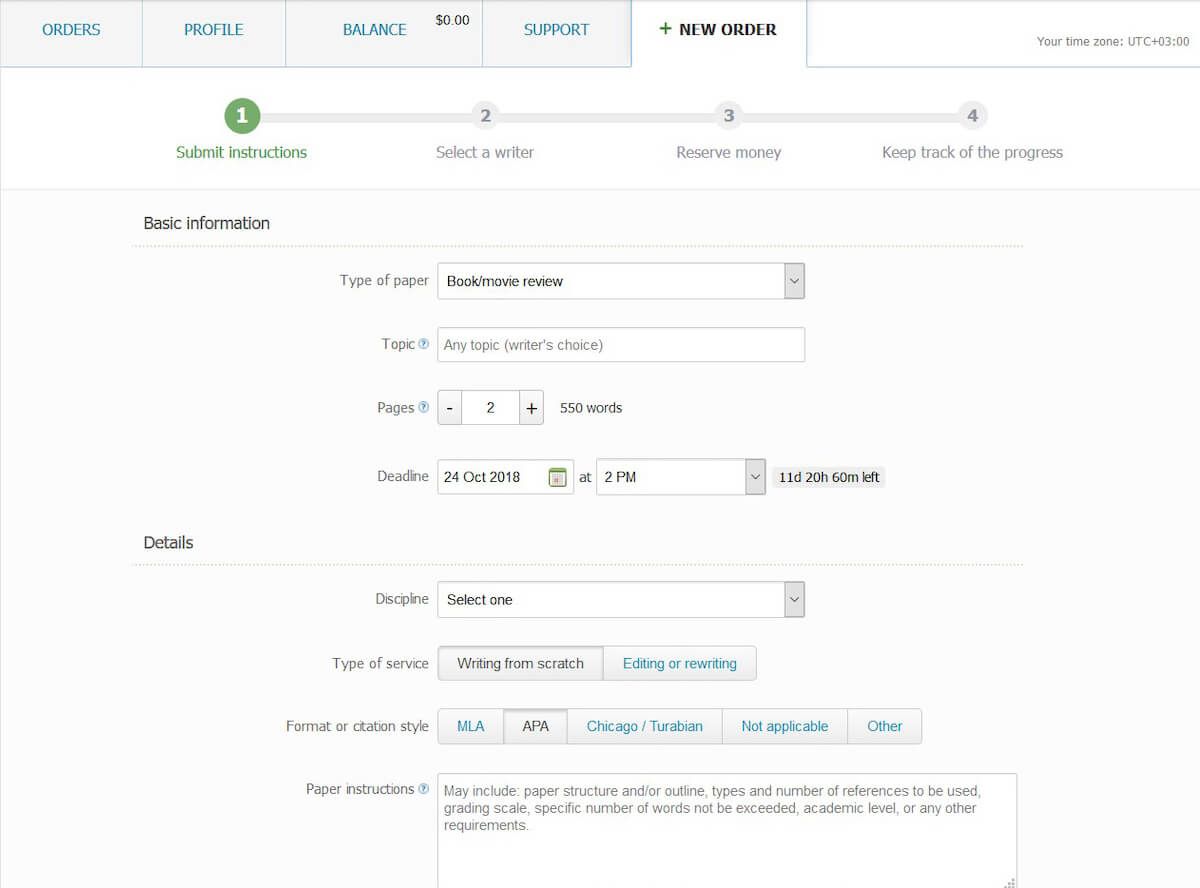 There is a My Account button where you can sign in or register. I did find it weird that when you register you are required to place an order right away, but it turned out you don't actually need to complete the whole process, just state the supposed length, type of work, and deadline. Didn't make it less weird but whatever. After that, you put your email address there (it will be your login), and they send you the password that should be used when you need to sign in the next time. Placing your order is easy, you can specify just about anything, there is even a place for your requirements or pointers for the writer. Next, you either wait for the bidders to make their offers, or you can let the system choose the writer who matches your requirements the best. The latter kills the whole meaning of the auction system, IMO. On the other hand, it somewhat lowers your chances of stumbling upon unprofessional writer which is a real concern here, especially among writers with lower prices. You can talk to the bidders in a special chat to specify anything. When you've made a choice, the person you've selected gets to work, and you can keep in touch during the whole process, ask for updates or even see the part of the work. The best thing about mid-process communication is that you needn't ask yourself "Can professors search the net and find out it is a bought essay?" or "Has anyone used this text somewhere already?"—just check the parts for plagiarism yourself before completion and find out if the paper is original. They also have an Android app that you can download in the Play Store. It allows taking care of things on the go if you have conflicting schedules with the writer. Bid4Papers has a blog, and though it hasn't been updated for some time, you can find advice there on how to write a proper review or a good hook for essay, things like that.
Bid4Papers Essay Competition
Off-topic, but there was a contest in 2014 with the subject of how people see world education in 50 years, and there were money prizes for the two best essays. This might be a good way for a student to make an additional buck; yet, it could be just a clickbait – I didn't manage to verify whether the competition was the real stuff.
Bid4Paper Customer Service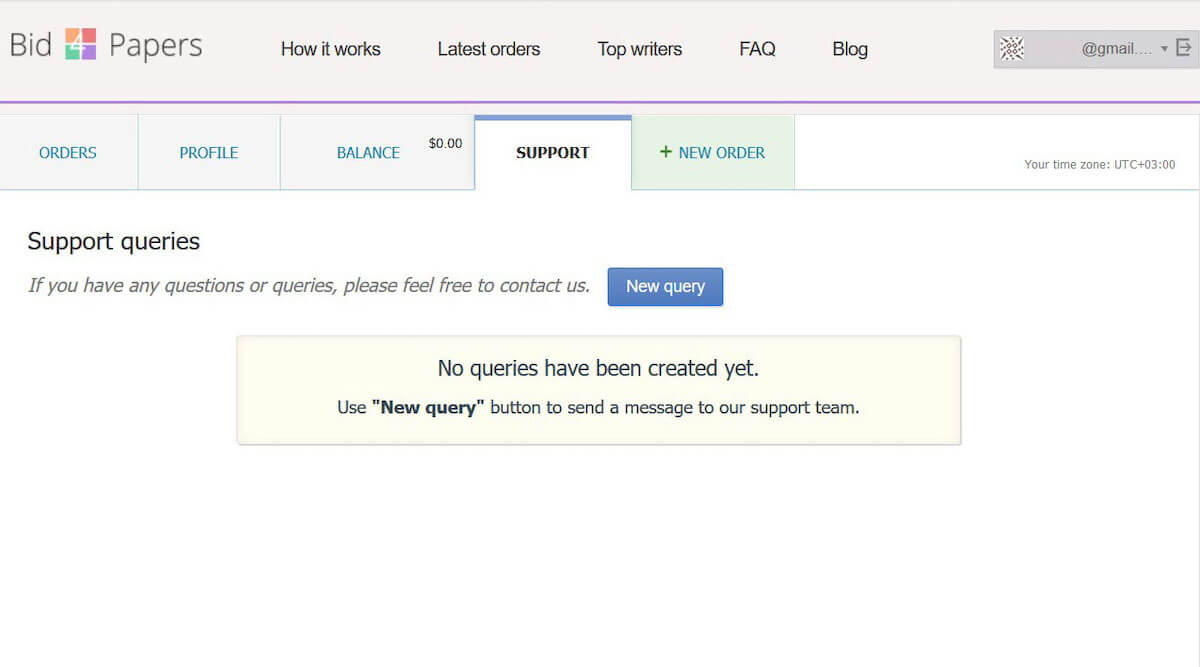 Disappointingly, Bid4Papers have no chat support and no phone number, which is a downside in my looks. The customer support works with tickets, you can issue one from your account. Or you can reach out to the team on Facebook, Twitter, YouTube, or Google+ if you want, but it is significantly slower – believe me, I tried.
Is Bid4Papers Legit? What Guarantees Do I Have?
This is probably the biggest con for me — there are literally no guarantees, it all depends on you. Sometimes the paper you receive is stupid or plagiarized, the writer is cheating – and you've already paid. The refund policy is sketchy, you virtually don't have a chance to get back what you've already paid. The only way to know how reliable specific writer is before you work with them is asking around, for example, on Reddit or somewhere like that. That's why people often call Bid 4 Papers scam on the Internet. Well, I don't think it's a scam, but it's not completely safe either. You have to ask yourself every time: "Do I pay after or before it's complete?" and "Do I need to release funds now or wait for completion?" — it's a gamble.
Bid4Papers Final Verdict
All in all, I believe Bid4Papers is quite good if you are ready to pay some more since good writers ask for higher pay, and the average price per page is fairly high to begin with. If your expectations aren't too high, you can gamble with cheaper ones, but the research shows it can backfire.
CyberPaperBoy Review
Click on the button bellow and you'll see another great review of a paper writing company.