Summary
Bartleby offers access to one of a few paid sample databases. And while it's tiny in volume, it can boast decent papers' quality. If you need a sample to get inspired to write your own paper and are ready to fork out above the market-average price, Bartleby is a good choice. Otherwise, you can still get some benefits from their writing tools.
What is Bartleby anyway? It is a website that provides homework help, textbook solutions, and other educational services. In particular, the Bartleby research section offers some paper samples that can be used as a starting point for writing an original essay.
Is Bartleby legit to use? Yes. Unlike buying custom essays online, the use of sample databases is absolutely legal and doesn't violate academic honesty.
Is Bartleby worth it? This bartleby.com review tries to give you a true and impartial answer to this question.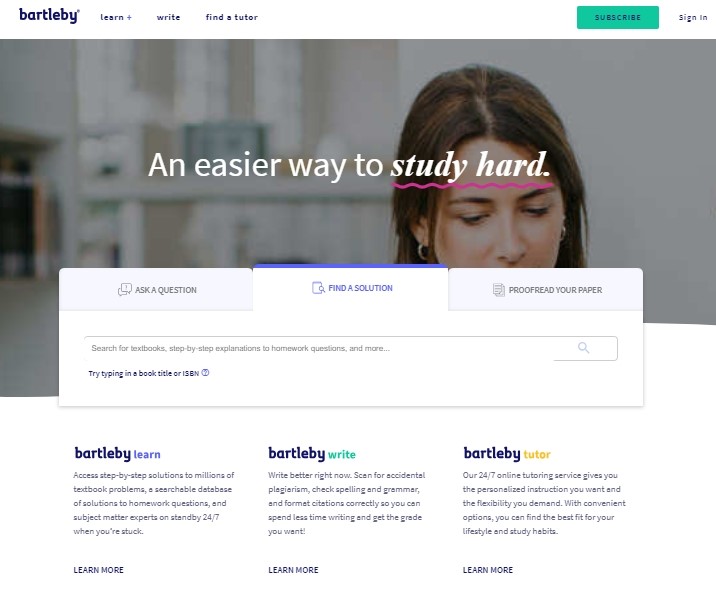 Prices and Discounts for Bartleby Homework Solutions
Is Bartleby free? Well, no. There is neither a free Bartleby account nor a free trial, so you'll have to pay to get access to the Bartleby essay sample database as well as almost any other service. However, the information about conditions and prices is shown only after the login process – a very inconvenient system. Subscription for Bartleby research will cost you a little less than $30 per month. For new customers, they offer kind of a trial period for $7 per week.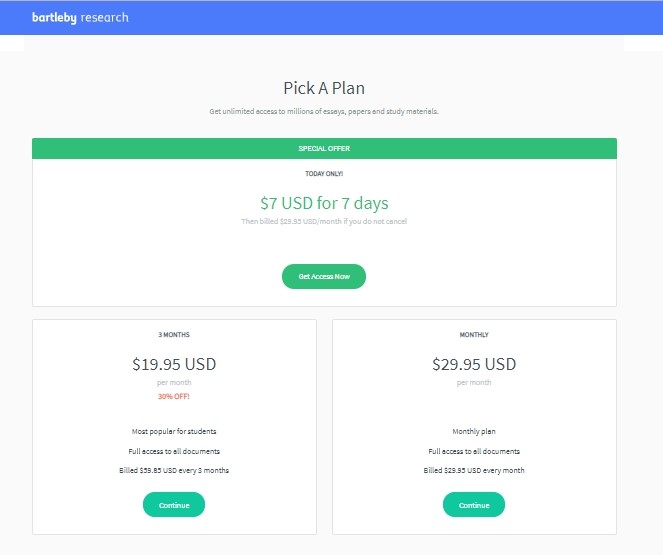 Quality of Bartleby Essays Samples
A good essay example is a powerful learning tool. Bartleby.com offers a large number of paper samples of various kinds – from argumentative essays and research papers to literary analysis of various poems.
Browsing through samples is performed only by keyword: you enter the topic of your essay and get the list of relevant samples. Unfortunately, www bartleby.com doesn't have any filters to sort the results by paper type, complexity level, size – this information can be found only by viewing a particular sample. There is a section of popular essays and common topics to help those who haven't yet come up with the topic idea.
Perfectly formatted Bartleby student materials can be used as a general guide to writing your own essay on the same topic, as a source of content ideas, or simply as a model to follow.
The quality of samples is definitely better than of those you can find in free databases. However, the origin of some of them remains controversial – on Reddit one can find complaints from users that their papers were published on the Bartleby site without their consent. So is Bartleby com a reliable source? Looks like that at first glance, but doubts remain.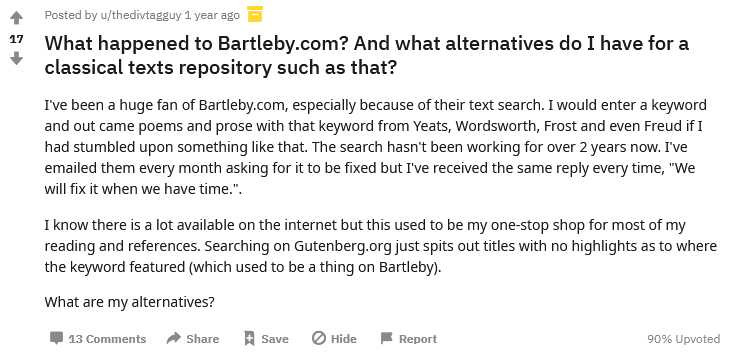 Customer Support on www bartleby com
Unfortunately, there is no live chat on the website. Bartleby customer service can only be contacted via the online feedback form. My question about how to cancel Bartleby account subscription was replied by a robot and contained a promise to get in touch as soon as possible to resolve the issue. However, this wasn't done while the review was being written.
Guarantees
Is bartleby.com safe to use? Considering that the resource belongs to a respected Barnes & Noble organization, we can assume that it is. Plus, the service guarantees confidentiality and protection of personal data provided by customers.
That said, Bartleby doesn't imply a money-back guarantee. Also, the subscription fee will be automatically re-billed at the end of the selected period for the same time until a user cancels the membership.
Other Features: Bartleby "Learn," "Write," and "Find a Tutor" Sections
In addition to the essay database, Bartleby offers a range of useful writing assistance services.
Thus, Bartleby's "Learn" section provides access to hundreds of textbook solutions and great books online.
Bartleby's "Write" section offers useful tools and features to cope with some writing difficulties, including a plagiarism checker, grammar and spelling checker, quotations tool, and an AI tool to suggest your grade for a paper.
Bartleby's "Find a Tutor" section ensures the help of experts who can answer academic questions 24/7.
However, almost all these features are paid.
So, Is Bartleby Student Success Platform? The Verdict
Bartleby is a good platform to help students with their studies, but definitely not the best out there in terms of price-quality ratio. Samples quality is good, but the prices are high – the minimum price is $19.95, but only if you're willing to pay for 3 months in advance. Paid trial period costs $7 per week for new users. Comparing this website with similar ones (for example, Bartleby vs Chegg), it can be noted that there are services with lower prices and a larger number of educational materials.