Summary
Everything about this service is average. Yes, papers are indeed affordable but not cheap. The writing quality is fine rather than great. The same applies to customer service and usability. Instead of aiming for average results, use a better service, and get a better paper for the same money:
An essay mill is a terrible place with endless rows of cubicles in which hapless writers are chained to their desks. At least that's what comes to mind when I think of companies selling or purporting to sell affordable papers. The thing is that in order to produce academic papers with a sufficient level of expertise one has to have at least a bachelor's degree and an inordinate amount of special training. The highly-trained individuals don't work for cheap; only amateurs do. Thus, a website that offers an extremely affordable paper writing service raises suspicions of fraud. The writing service in question is AffordablePaper. After reading some reviews on this company and inspecting its web pages (including affordable-papers.net, which appears to be the mirror for the "parent" site), I decided to check how reliable and legit it is. Read this review to find out whether the service is worth your time and money.
Affordable Papers Login, Prices, and Discounts
Let's start at the very beginning: how do you sign in to an AffordablePaper account? Actually, there is nothing tricky about it. To manage orders, track paper delivery, etc., users should create an account and, then, use a standard form to sign in to it. As for AffordablePapers price range, it is indeed affordable. With long enough deadline, one can purchase a school-level essay for only $9 per page. College papers are also cheap: $11 per page with a 14-day deadline, $15 per page with a 3-day deadline, and $25 per page with an 8-hour deadline. Naturally, university-level papers are pricier: $15 per page with a 14-day deadline, $20 per page with a 3-day deadline, and $32 per page with an 8-hour deadline. Now, let's discuss discounts and promo codes or, to be more precise, their complete and total absence. I ordered a university paper, which cost me $80. In an attempt to snatch a discount code or coupons for the paper, I inspected closely two search engine results pages. There were none. After dipping into Affordable Paper FAQ section, I discovered that "instead of applying discounts as a privilege," the company "lowered costs for everybody." My frustration notwithstanding, I couldn't cancel the order because I had to write this review for you. So, with a heavy heart, I pressed the "Continue to order" button. Keep reading to discover what happened next.
Affordable Paper Writing: The Quality of Service
Affordable Papers claim that they have been around for 13 years and amassed enough experience to become "more than just an academic writing agency." What allegedly distinguishes them from others is their insistence on doing their job well. Therefore, in addition to writing and editing your term paper, or other orders for that matter, Affordable Writer will suffuse it with "boundless love." Who doesn't want some love, right? There's only one surefire way to verify the real quality of AffordablePapers and college papers they sell – to place an order and wait until it is fulfilled. So, I decided to check the quality of their essays and buy one. I used their online form to submit the following request for help of the company's writers: "Please write my essay using an APA citation style." The essays' topic was "Should the use of smartphones be restricted?" After the paper delivery, which was timely, I checked it for plagiarism using free service Copyscape. The verification showed there was zero duplicate content in the essay. Good.

Now, let's get to the meat of the matter – the paper's quality.
The writer has opened their essay by discussing the exponential growth of technology and how it is reshaping society. After providing some context for the problem at hand, they argued that the excessive use of smartphones could lead to alienation, loneliness, and depression. Much to their credit, the writer eloquently introduced the other side of the argument by stating that the addictive nature of smartphones notwithstanding, they are instrumental in establishing peer connections. The introductory paragraph ended with a clear thesis: The technologically fixated mindset of American society, which results in the obsession with mobility and immediacy of smartphones, should be reexamined. Although the thesis was clearly stated, it failed to address the question explicitly posed by the essay's topic – should the use of smartphones be curtailed?
The body paragraphs of the essay were developed with a sufficient level of supporting detail. The writer discussed the addictive nature of smartphone technology and how it diminishes the amount of face-to-face communication. They indicated the inability to correctly interpret interlocutor's emotions as a drawback of messaging apps. The writer masterfully refuted the arguments of the opposing side by providing seemingly plausible objections and supporting them with examples.
The conclusion paragraph summarized the key points made throughout the essay. It is worth noting that the writer repeated two sentences used in the paper's body, which is frowned upon by college professors.
All in all, the paper was good. Its author treated the subject seriously when outlying their main points. The use of language was clear and precise. However, given the out of place thesis and the repeated use of some sentences, the essay scores only 3.5 out of 5.
AffordablePapers Guarantee Policies and Support
Affordable Papers offers a money-back guarantee and plagiarism-free guarantee. The Guarantees page states that quality-related refund requests are processed within 14 days. All other refunds are issued within 3 to 4 business days. According to the same page, the company manages to avoid plagiarism in its papers by using regularly upgraded anti-plagiarism software.
The company can be contacted via two communication channels: live chat and phone. Interestingly enough, the live chat support specialists do not work around the clock. This is pretty weird considering that other companies have 24/7 live chat support.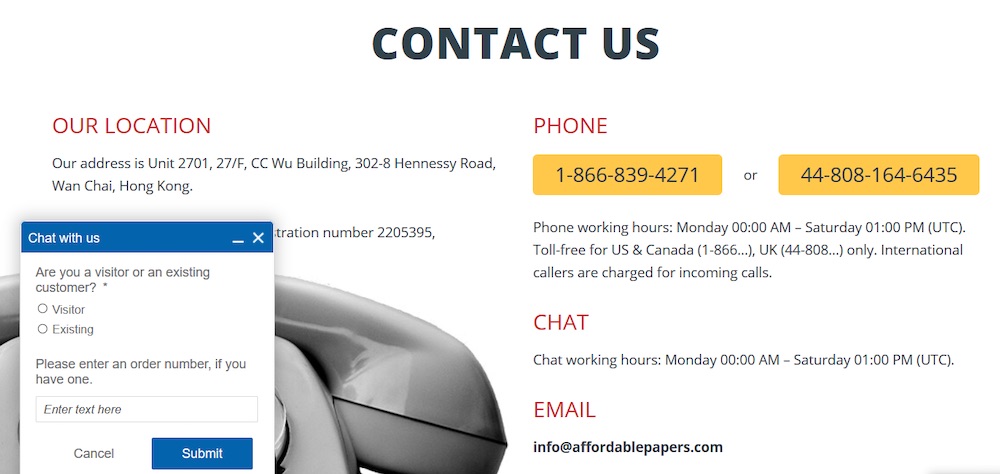 I used a phone number to reach their customer support representative and inquire into the progress of my order. The rep was friendly and professional. It felt like she was smiling during the whole conversation, which was really disarming. She listened closely and validated my concerns. To sum up, the customer service was great. If not for the lack of 24/7 availability, it would earn a solid 5. However, until the company removes this drawback, I cannot rate their customer support quality higher than 4/5.
Affordable Papers Feedback: Final Verdict
Is AffordablePapers any good? Yes, they are. In this respect, you can trust user testimonials displayed on the company's main page. There is no scam – the service indeed delivers papers as promised. However, the quality of those papers is lackluster. The idea, in theory, is that the company delivers great essays at affordable prices. In practice, not so much. If you don't mind an average quality and want to save a couple of bucks, you will like AffordablePapers. If, however, you need something more professional, you'll have to keep looking.
We Papers Review
Another highly rated writing service is WePapers. You can read about its features, discounts, writers and prices in our review.